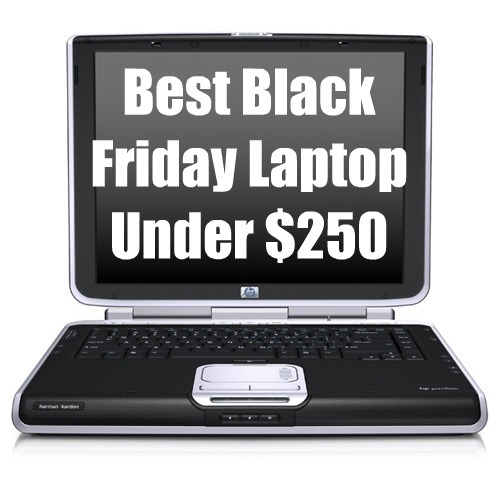 When it comes to Black Friday, there are always crazy cheap laptops, and Black Friday 2010 is no different. This year we are seeing netbooks under $100 and even laptops under $200. While we still think you'll get a better value for your money bumping up to a dual core notebook for around $329, we recognize that many users are looking for the cheapest laptop they can find. In that spirit we rounded up the Black Friday netbooks and laptops under $250 and chose the best.
Remember to look at our Black Friday Buying Guide – 10 Things to Look for When Buying your Black Friday Laptop or NetBook, before you head out for Black Friday 2010.
Black Friday Laptops and Netbooks Under $250:
Of all these Black Friday Laptop Deals, the best Black Friday Laptop as chosen by Notebooks.com is the Compaq CQ10-405DX from Best Buy.
We chose the Compaq CQ10-405DX as the best Black Friday Netbook under $250 because it offers a relatively modern Intel Atom processor, 1GB of RAM and a full complement of netbook ports for $149, which is the cheapest actual netbook we have seen on Black Friday. It may not have the chops for handling all types of web video like you would find on a newer netbook with a dual core processor or a Broadcom HD accelerator, but it will be perfect as a secondary computer for most users and as a primary machine for users who only need it for email, web surfing and editing office documents.
This even beats out the $198 eMachines eMEs28-2325 Black Friday laptop from Walmart which doesn't offer much more power. If you really want a bigger screen and netbook performance you can try for the $198 Walmart laptop, but you'll be better off picking up a dual core laptop that can handle the needs of most modern computer users better.
At the other end of the spectrum, the 7″ Sylvania Netbook from CVS is the worst deal we have seen for many reasons, but mostly because it is not really a netbook in terms of what consumers are looking for. Spend the extra $50 to get the Compaq from Best Buy and you will have an immeasurably better experience!
Need a better laptop, check out our top picks for Black Friday 2010 in these guides below.
Advertisement