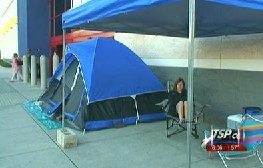 Best Buy has some pretty sweet Black Friday deals and one Florida family doesn't want to miss out on them. In fact, they've been camped out in front of a St. Petersburg Best Buy since Wednesday at 9a.m. This is the sixth time they've camped out for Black Friday in a row, but they've never managed to be first in line. Tired of being second, third or fourth to get through the doors, the Davenports are willing to camp out for 9 days to score one of Best Buy's Black Friday HDTVs and some of Best Buy's Black Friday laptops.
According to Best Buy, the Davenports are the first to line up in the nation for Best Buy's Black Friday deals. A total of 10 family members are taking shifts so the others can work, go to school or lead other normal parts of their lives.
Best Buy is awarding the family a certificate deeming them the "First Family of Black Friday" today. We hope it's more than just a plaque and a gift card or gadgetry is thrown in. Best Buy's getting quite a bit of publicity out of this, surely more than the value of all the gadgets the Davenports could possibly buy.
Giving up Thanksgiving and waiting overnight in a Best Buy parking lot borders on the insane. Sleeping in a parking lot for nine days in the hopes of getting a deal is insane.
We're all for scoring good deals, but time isn't free.
via GottaBeMobile
Advertisement