Google Docs has finally been updated to allow users to edit Google Docs documents on the go. In an announcement on the Google Blog this morning Google stated that an update was rolling out across the system to let users visit docs.google.com from their mobile device to edit documents.
Once the updates finish rolling out, users will be able to tap the edit button in the upper right hand corner and edit the Google Docs on the go. We haven't had our accounts updated yet, but given the amount of work we o on the go these days we can't wait. Expect to see this rolling out over the next few days.
Now that you can use Google Docs on the iPad, you have to wonder if the sales of the Pages app will slow down a bit as users turn towards this free solution that makes it easy to keep documents available in multiple devices. Especially since you can see the edits others make to the document.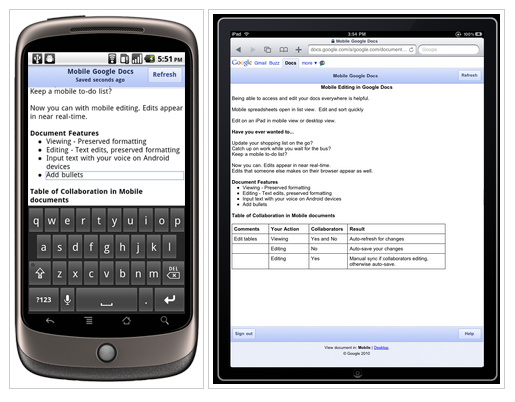 The update will allow Android users with Froyo 2.2 installed and iPhone, iPod Touch and iPad users with iOS 3.0 or greater to edit documents on the go by visiting docs.google.com in their device's mobile browser.
Advertisement