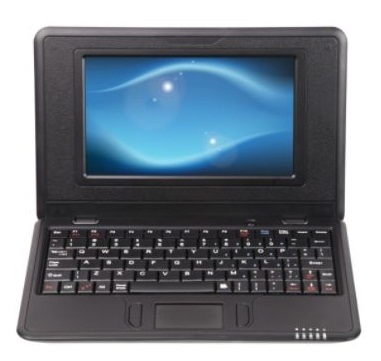 Black Friday Laptops and netbooks are often a great deal, but sometimes a bad buy sneaks in, and if you aren't careful could cost you dearly. The $89 Kmart 7″ netbook looks like it will be one of those bad buys, especially when can get soo much more for an additional $100.
The Black Friday netbook from Kmart appears on the front page of the leaked Kmart Black Friday 2010 ad, boasting WiFi, web browsing and email. There's a small note that the style may vary by location, but we looked on Kmart.com and found the Augen 7″ Netbook PC Powered by Android (model NBA7400A), which fits the original price and looks just like the netbook pictured as a Black Friday doorbuster. This netbook made rounds this summer as the Augen GenBook 74, which sold for $99.
We have nothing against cheap laptops, so long as they offer users a good value too, but according to reviews of the kmart netbook from this summer it is one you should avoid, as well as the 7″ Sylvania Netbook also sold by Kmart and featured as a bad Black Friday Sylvania netbook being sold at CVS.
Numerous reviews of this netbook hammer the device for being an underperformer — even in the super cheap netbook category. Joanna Stern of Engadget described the system as, "…slow. No, like really slow." You can see Engadget's preview of the $90 kMart Black Friday netbook in this video below.
John Walton of Android community website DroidDog returned his Kmart netbook due to numerous complaints including a trackpad that doesn't work right, poor WiFi performance and software taht was, "slow and non-responsive."
Even for the lowest demand users out there, this isn't the netbook you should be looking at buying on Black Friday. You can find a real netbook for not much more, like the $149 Compaq CQ10-405DX from Best Buy that runs Windows 7, has an Atom processor and a 10.1″ screen.
We also recommend that you check out 10 Things to Look for When Buying a Black Friday Laptop or Netbook, which will help you figure out if a notebook is a good deal or not.
If you aren't in the market for a notebook this year you, we've rounded up 10 Things to Buy on Black Friday Besides a Laptop to show you some of the other items available.
Advertisement