Best Buy is going to offer the Panasonic VIERA 46" Plasma HDTV on Black Friday for $599.99 which is about $30 less than either Newegg or Amazon are asking. This is an entry level 720p HDTV with a high 600Hz refresh rate, which might make this a good gaming TV or a decent set for watching action movies on regular DVDs. Move on if you plan to watch Blu-ray discs as the resolution is not high enough.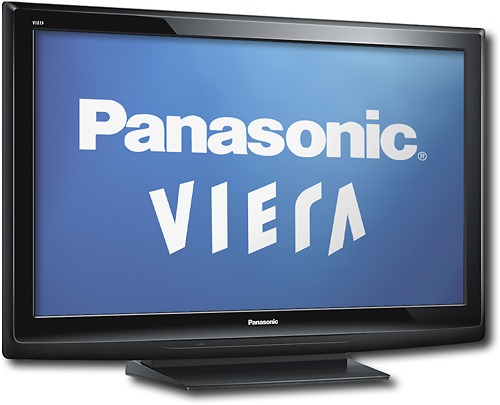 Panasonic's TC-P46C2 is a decent sized set with a 46" screen an a 1024×768 resolution. The 2 million to 1 contrast ratio is pretty high. If an accurate figure it should give good color and contrast. Based on the "What size TV should you get?" chart on most Amazon HDTVs, this one is good for medium sized rooms with most viewers sitting between six and twelve feet away.
This set has a couple of composite RGB inputs and 2 HDMI ports. Other ports include 4 analog audio inputs and a digital audio output port. There are also 2 component video for those old VCRs or camcorders. Finally, an SD card slot is included to allow users to show their digital camera photos on the TV.
The TV is 44-5/6" wide, 28.5" high and only 3.7" deep unless you use the stand which makes it 14.1" deep and 30.4" high. It is a hefty 67.3 pounds with the stand, but can still be mounted with a strong enough bracket.
The speakers are 20 watt speakers, with 2 at the bottom of the set. The digital audio output will give users surround sound with a digital audio receiver.
Based on reviews at Amazon and the price on Black Friday at Best Buy, this might be a good fall back set if you don't get their early enough for the really great deals.
Advertisement