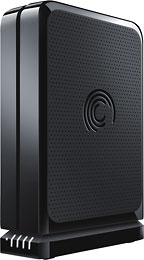 Best Buy will be selling the Seagate FreeAgent GoFlex 2TB hard drive on Black Friday for just $89.99. The Seagate FreeAgent GoFlex 2TB drive normally retails for $169.99.
This hard drive comes with a base that's compatible with both USB 2.0 and USB 3.0, which is available on some newer laptops. The 'GoFlex' portion of the drive's name refers to the fact that it has a flexible adapter system. GoFlex drive users can purchase eSATA and  FireWire 800 adapters for the drive to take advantage of the fastest available interface on their Mac or PC.
The Seagate FreeAgent GoFlex 2TB comes with both Mac And PC software. When formatted properly, Mac users can continue to use the drive with both Macs and PCs.
A hard drive might not be the sexiest gift for the holidays, but it may be one of the best ones if your loved one doesn't currently back up their data. This drive has a high enough capacity to back up several laptops and hold several dozen full-length HD movies.
View more details about the drive at BestBuy.com.
Advertisement