Fire up your Mac and hit the Apple to update your computer to latest version of Snow Leopard, Mac OS X 10.6.5 today as was reported earlier. The update includes things for Microsoft Exchange users, performance enhancements, and of course it is supposed to bring the OS into compatibility with the new iOS 4.2 coming soon.
For the details about the update see the following quoted from the built-in Software Update… dialog box in OS X.
The 10.6.5 Update is recommended for all users running Mac OS X Snow Leopard and includes general operating system fixes that enhance the stability, compatibility, and security of your Mac, including fixes that:

improve reliability with Microsoft Exchange servers
address performance of some image-processing operations in iPhoto and Aperture
address stability and performance of graphics applications and games
resolve a delay between print jobs
address a printing issue for some HP printers connected to an AirPort Extreme
resolve an issue when dragging contacts from Address Book to iCal
address an issue where dragging an item from a stack causes the Dock to not automatically hide
resolve an issue with Wikipedia information not displaying correctly in Dictionary
improve performance of MainStage on certain Mac systems
resolve spacing issues with OpenType fonts
improve reliability with some Bluetooth braille displays
resolve a VoiceOver issue when browsing some web sites with Safari 5

For detailed information on this update, please visit this website:https://support.apple.com/kb/HT4250.

For information on the security content of this update, please visit:https://support.apple.com/kb/HT1222.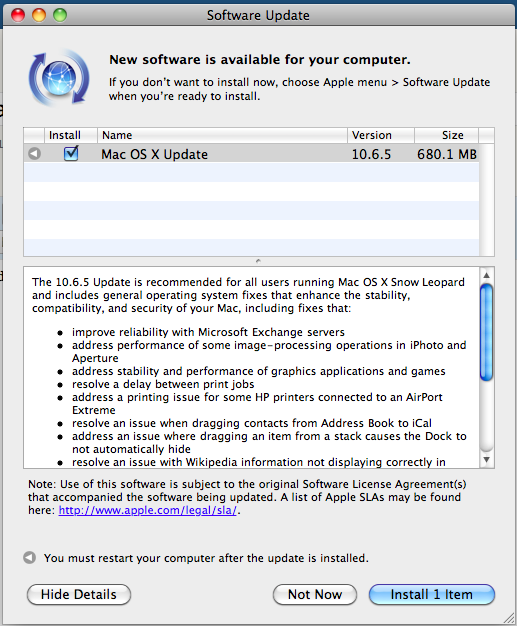 Advertisement