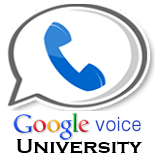 Using Google Voice with a smartphone offers easy access to most of the Google Voice features, but there is still an easy way to use Google voice with a standard cell phone and enjoy all the same power user features including the ability to get transcribed voicemail, make calls and send texts from your Google Voice number and more.
This guide is part of a week-long series we're calling Google Voice University, which will take you from a beginning Google Voice user all the way up to a Pro in a series of short guides.
How to make a call with Google Voice on a Regular Cell Phone:
Once you add your cell phone to Google Voice you can start having your calls automatically forwarded, but if you want to start calling people with Google Voice you'll need to take a few steps. If you are calling frequently from a regular cell phone these Google Voice shortcuts will be useful.
How to make Google Voice calls manually:
If you know your Google Voice number and your PIN you can make an outgoing call to any number from your cell phone, or any phone for that matter.
Simply call your own number from the phone, if asked enter your PIN.
Press 2 to make an outgoing call.
Dial the number you want to call and it will be completed from your Google Voice number.
How to make Google Voice calls automatically and text with Google Voice:
Given our reliance on speed dial and our phone's contacts looking up a number then remembering it to enter after dialing into Google Voice is annoying. Thankfully there are a few ways around this.
The easiest is to have your frequently called contacts send you a text to your Google Voice number. The text will come across with a Google Voice number which you can use to text and call that specific contact. In essence Google has created a Google number for that person.
Have your contact send you a text message to your Google Voice number.
Add the 406 number the text message is from to their contact information on your phone.
To call or Text with Google Voice simply choose this number, you can even set it as a speed dial.
It's not perfect, and you'll need to manually call landlines that can't text (unless you have a smart dialing option), but it's still a relatively easy way to use Google Voice with a a regular cell phone. IF your cell phone carrier supports it you can even add your Google Voice number to a friends and family plan to make all your calls for "free". If you want to do that you will need to change your Google Voice settings as shown in this guide.
This is part of Google Voice University, an in depth look at how to use Google Voice. Next up we will look at how to use how to make calls online, how to record phone calls, how real people use Google Voice to simplify their lives and more — by the end of the course you'll graduate with a masters in using Google Voice.
Advertisement