Rugged Notebooks makes just what the name suggests notebook computer for the demanding work place, like the military, police and fire, or anyplace where a typical computer might not last. They are announcing the Eagle series.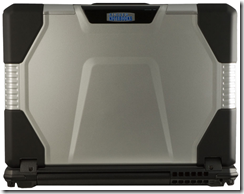 These ruggedized notebook computers will start at $1,695. They meet the FBI user-authentication guidelines allowing users to access the National Crime Information Center by providing biometric fingerprint readers and SmartCard readers. They also have a BIOS feature called Absolute Computrace which helps the owner trace the computer if it is lost or stolen and even will delete some or all of the data on the PC.
The US Military 810F and 810G standards for drop, spill or shock are met by these notebooks. There is a rubber Guard Protection system that helps protect the screen from shock. The optical drives are have a lock to keep them from accidentally opening and being broken off and there are port covers attached to the computer to prevent moisture and dust from getting inside the PC. The touchpad is also sealed.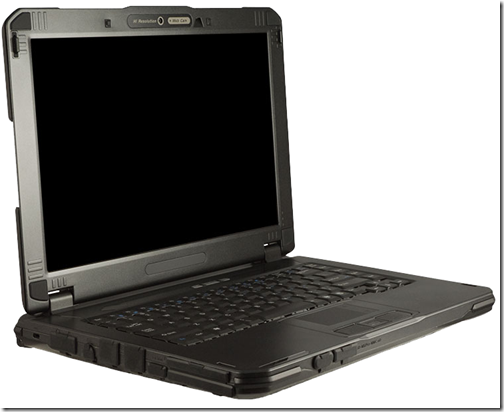 The notebook is five and half pounds and carries a 14.1-inch display. The processor is an Intel Core 2 Duo and will hold up to 8 GB of RAM. The display can optionally be touch screen and is a transflective sunlight display meaning it is viewable in direct sunlight. It also has a built-in webcam.
The ports on the system include HDMI out, up to Gigabit Ethernet and an RS-232 serial port. There is RAID 0/1 support for dual hard drives to be backed up instantly. The hard drive can also be fully encrypted.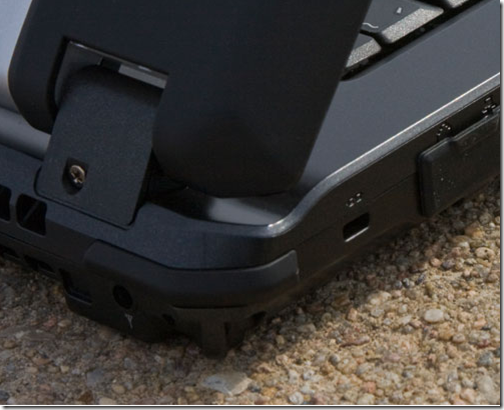 For wireless connectivity there is broadband 3G available along with Bluetooth and GPS. The systems will run either Windows 7 or XP Professional. For information see Rugged Notebooks.
Detailed  Specs:
CPU
Intel® Montevina Technology
Intel® Pentium Dual Core 2.0GHz (T4200), FSB 800Mhz ,1MB L2 Cache, 35W TDP
Optional: Intel® Core 2 Duo 2.10GHz (T6500) FSB 800Mhz, 2MB L2 Cache, 35W TDP
Optional: Intel® Core 2 Duo 2.53GHz (P8700) FSB 1066Mhz, 3MB L2 Cache, 25W TDP
Optional: Intel® Core 2 Duo 2.80GHz (T9600) FSB 1066Mhz, 6MB L2 Cache, 35W TDP
L2 Cache
Memory
2GB 800MHz DDR2 Standard
8 GB Maximum (Microsoft XP Professional/Vista 32-Bit versions will see only 3.24GB)
Chipset
North Bridge: Intel® GM45, optional Intel® GL40 (factory option)
South Bridge: Intel® ICH9M
Computrace Enabled BIOS for use with Lojack for Laptops Recovery or Absolute Computraceâ"¢
Video
Intel® GM45 Integrated Graphic Controller
Shared System Memory up to 780MB
Display
14.1″ WXGA (1280×800)
Optional: 14.1″ WXGA+ (1440×900)
Optional: resistive touch panel (Factory option, comes with Stylus and OS upgrade to touchscreen)
Optional: sunlight readable display
Optional 1.3 megapixel webcam
Hard Disk
Field Changeable/User removable 160GB HDD with SATA interface
Optional: 500GB 5400rpm HDD
Optional: 7200rpm HDD
Optional: Extreme environment rugged hard drive
Optional: Solid State Disk Drives (SSD) 16 / 32 / 64 / 128 / 256GB
Optional: 160GB Hardward Encrypted High Security HDD
Optional: Second HDD with RAID (Media Bay)
Communication
Integrated 56 Kbps v.92 fax/modem
Integrated Gigabit 1Gbps Ethernet (RJ45 connector)
System supports Wake on LAN from S5/S4 on wired LAN connection on AC power
Wireless
Intel Link 5100 Mini Express Card Wireless LAN 802.11a/b/g/n
Internal 2nd Mini PCI Express slot to support either WWAN/3G or WiMAX or GPS
3G & WLAN cannot operate at the same time
Optional: Bluetooth 2.1+EDR
Media Bay
Field Changeable Side Opening Bay
Super Multi DVDRW drive with bezel lock
Optional: Second 2.5" SATA HDD (RAID)
Optional: Weight Saver Blank
Expansion Slots
PCMCIA Type II slot
4-in-1 Media Card Reader (SD / MMC / MS / MS Pro)
I/O Devices
One PCMCIA Type II slot
4 in 1 Media Card Reader (supports MS/MS Pro/SD/MMC)
Smart Card Reader
Touchpad
Optional: 1.3 megapixel webcam
I/O Ports
1x RS-232 Serial
1x PCMCIA Type II
4x USB 2.0
HDMI
VGA
RJ-45
RJ-11
4-1 MultiCard Reader
Mic-In
Line Out
Docking Port
AC/DC Adapter
Input: AC-100-240V 50/60Hz, Output:DC 20V/3.25A/65W
Audio
High Definition Audio/Stereo
Two 1.5 speakers
Internal Microphone
Battery
Standard 6 cell 4400mAh Li-Ion battery (approx. 4hrs)
Optional: 9 cell 6600mAh Li-Iobn battery (approx. 6hrs)
Operating System
Standard: Windows XP Pro (Windows 7 license with XP Pro downgrade)
Optional: Windows Vista Business
Optional: Windows Vistaâ"¢ Ultimate
Optional: Windows 7 Home Premium
Optional: Windows 7 Professional (32 or 64 bit)
Optional: Windows 7 Ultimate (32 or 64 bit)
Dimensions / Weight
352mm (W) x 256mm (D) x 37-41 mm (H)/ 13.8″ (W) x 10″(D) X 1.45″ ~ 1.61″(H)
2.5Kg/5.5lbs (with 6 cell battery)
Security
BIOS Administration password/ Boot password
Smart Card Reader
Fingerprint scanner
Kensington Lock
TPM 1.2
Warranty
2 year standard warranty
1 yr battery warranty (when purchased with laptop)
Optional Express Service and Extended Warranty
Keyboard
Spill resistant keyboard with drain hole
White LED projected keyboard light
Special Upgrade Options
Sunlight Readable LCD with up to 1440×900 resolution
Internal 3G module
Encrypted Hard Drive
Extreme environment rugged hard drive
Solid State Drive up to 512GB
48 Hour Express Red Repair Warranty with no cost overnight shipping
Antireflective/antiglare screen protector film (enhances outdoor viewability, can be used on touchscreen and non-touchscreen models)
BIOS-enabled Absolute Computrace asset tracking and recovery
Environmental Specifications
Temperature
Operating Environment Temperature: 5℃ to 35℃
Storage Environment Temperature: -20℃ to 60℃
Surface temperature (max): 20 deg C on Magnesium-alloy D cover; 15 deg C on palm rest and touch pad at 25 degree C ambient.
Humidity
Operating Humidity: 10% to 90%
Drop
Meet 2.5 feet with 26 drops to 2" of plywood over concrete with unit off and display closed.
MIL-STD-810F, Method 516.4, Procedure IV, Height Modified.
Ingress Protection
C-face (keyboard and display) is spill proof, including keyboard, buttons and indicators
Vented case with fan
Regulation
EPEAT Silver, Energy Star 5.0, RoHS Compliance
Advertisement