The Apple iPad is the fastest selling non-phone electronic device ever according to Bernstein Reserch (via The Unofficial Apple Weblog). According to the company's Colin McGranahan the iPad will likely sell 8.5 million units by year's end. This makes it a runaway success of unprecedented proportion."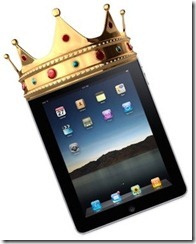 On the most recent MacBreak Weekly, a show on the Twit.tv network, Leo LaPorte reported numbers from Bernstein as saying that in the first quarter of availability the iPhone sold 1 million unites. The first DVD player only sold 350,000 units. But the iPad sold 4.5 million units.
Advance the following video to the 46 minute mark for the discussion.
As we previously reported the CEO of Best Buy said the iPad was affecting sales of netbooks. He later backed off those comments, but Bernstein also reported that iPads are not only affecting sales of netbooks and notebooks, but they are also affecting sales of TVs and digital cameras, since people cannot afford both the iPad and another consumer electronic device in the same month or even year in some cases.
This is not likely to wane any time soon since the device will now become available in multiple retail outlets including Best Buy, Target and Walmart, in addition to Apple.
(image source: TUAW)
Advertisement