Inductive, or wireless, charging isn't new, but the new Energizer Inductive Charger is one of the newest wireless chargers and one of the first to incorporate the new industry standard Qi (pronounced Chee) which provides a standard means of charging gadgets like smartphones. The charger will be available in October and retail for $89.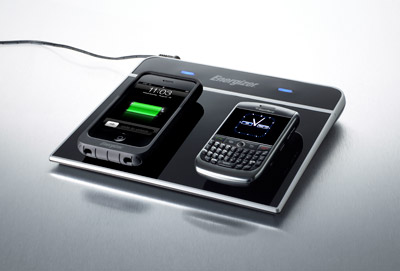 For now, you'll need a Qi Sleeve like the one that Energizer sells for the iPhone 3G/3GS or the BlackBerry Curve 8900 ($34.99 each) but the hope is that with a new common Qi standard consumers will soon see wireless charging built into their gadgets like smartphones, cameras, MP3 players and other devices that need less than 5W of power.
You can see a creepy demonstration of the Energizer Inductive Charger below, narrated by a talking head that is a bit too amped up about wireless charging. Unlike some systems on the market this charger doesn't require exact placement or magnets to transfer power.
It's great to see some new Qi devices hitting the market, and we are looking forward to the day where this technology can be used to charge smartphones without the need for an external case. It will also be great to see similar technology work its way into tablets and hopefully make the jump to charging out notebooks whenever we set them down on a desk.
Advertisement