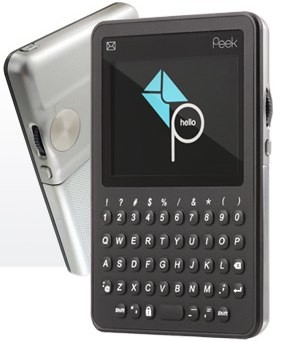 Peek recently introduced their newest device, the Peek 9. Boasting it as being nine times faster the Pronto, the company also added extra functionality in the way of the built-in applications for social networking and more.
When the original Peek was first introduced, it only offered email. What sweetened the deal was the lifetime of data for one reasonable fee. This proved to be an option for those who wanted to keep their "dumbphones" but still have access to their personal or work email.
The most recent edition, the Peek 9, touts a few new features. Now, in addition to real-time push email, Peek 9 users have access to Twitter, Facebook, PeekMaps and weather, and the ability to send and receive texts for no additional charge . Also built-in is a streaming RSS reader, the ability to view Word, PDF, and spreadsheet attachments, as well as Microsoft Outlook Exchange ActiveSync technology.
The Peek 9 is virtually identical to the Peek Pronto, as far as aesthetics go. The main differences are the speed boost, improved reception, and the addition of pre-installed applications. Other pros of this device include no overages, a rugged design, and a battery that supposedly lasts for days, not hours.
The Peek 9 is currently available in red or black for $69.99. For $30 more, you can get the Peek 9 and two months of service, which is a 25% savings. Though prior versions of the Peek device had an optional lifetime data offering, the Peek 9 does not. However, the pricing is still pretty attractive when you compare it to the data and text message pricing from most cell phone providers. Below are the monthly rates.
$19.95/month for 1 month
$14.95/month for 12 months
$9.95/month for 24 months
Peek claims that this could help you save $100's on your mobile messaging plan. The company provides the following graphic comparing the savings over a 2 year contract, but there is little context in how they arrive at these numbers. The $10 a month Peek Plan is cheaper than the data plans on smartphones, but if you are only checking email, you could get away with a $15 a month data package, which is the same as purchasing one year of Peek service.
For those of you who haven't jumped on the smartphone bandwagon just quite yet, the Peek 9 may be something to look into a bit further, though you'll want to run your own numbers for having a "dumbphone" and a Peek device and consider the fact that you'll need to carry around two devices.
Advertisement