Not all is happy in Google's world as Google Reader is having a few glitches. For the past couple of days, some users have noticed problems and there are reports in the Google Reader help forums to suggest it is not isolated.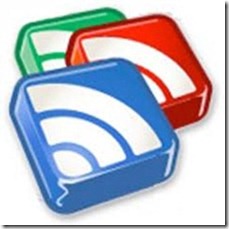 Google Reader is a service offered free of charge to Gmail customers. It handles what are called RSS (really simple syndication) feeds. An RSS feed is a special kind of Internet bookmark that goes to a web site like Notebooks.com and finds all the news posts on that site and sends them in a list to the feed reader software or service. The result is a list of feeds or web sites with feeds on the left and a list of articles at the selected web site on the right. Some readers will also display all or part of the article and its media content like pictures or videos. But Google Reader is not functioning as designed right now causing many users, like myself, consternation.
Misreporting of Unread Items Count
The first problem that some have noticed, myself included, is the broken read article count". After reading all of the articles in many of my folders (collections of sites that I have organized into a folder), the main window on the right reports no unread" items. However, on the left the folder shows that there are still items that are unread. Below is a screen shot of my Sports folders which is made up of my favorite web sites that are sports related. I have read or marked all of the articles in the folder as read. But the folder still says I have 6 unread articles.

This is nothing more than an annoyance. But I don't like annoyances.
In the past this has happened and usually, clicking the Mark all as read" button works. But it doesn't always work this time. When I went over to the Google help forum, I found a few discussion threads like this one saying they had the same problem.
Can't Create New Folders
The second issue, is that when I tried to create a new folder for some RSS feeds in the root folder of my subscriptions, I could not create more than 10 folders. I asked about this in the forums and found out that others are not able to create new folders at all. Then I realized there is another discussion thread complaining of the same issue.
Solution: Get Another Feed Reader
Until Google gets their act in order, the solution might be to read RSS feeds elsewhere. I am fond of NewsRack for the Apple iPad and iPhone/iPod Touch. It was one of our early iPad Apps of the Week. And on the desktop you could use Outlook 2007 or higher. It has built-in RSS feed reading and syncs with Internet Explorer's feed reader.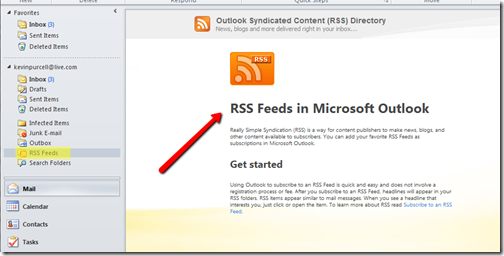 Neither of these are the best solution. I chose to download FeedDemon, which is highly recommended and syncs with Google Reader. That way, I don't have to abandon Google Reader. I can still keep my feeds in the service hoping it will be fixed soon. I can also still sync my feeds with my iPad and iPhone using NewsRack on those devices and Feed Demon on my PC.
In my very short test, Feed Demon didn't seem to suffer from the problems the web site is having.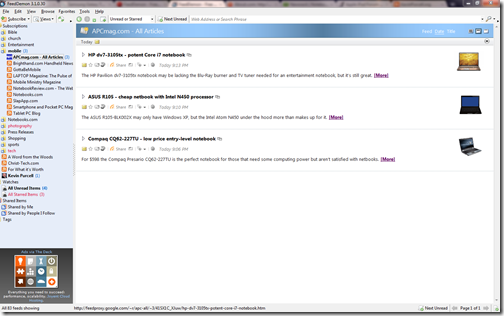 It works well and will do the job, until Google gets their act together.
Advertisement