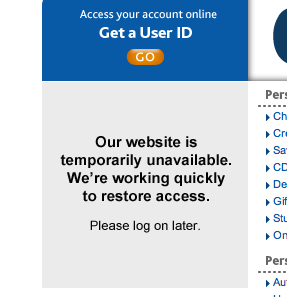 Bank and credit card customers were unable to access their accounts on Chase.com for more than a full business day. When visiting the site, customers were greeted with a simple message that reads "Our website is temporarily unavailable. We're working quickly to restore access. Please logo on later." As of 9AM Pacific (noon Eastern), the Chase.com appears to be functioning for at least some customers.
Chase didn't offer any further details to customers, including myself, which means bank and credit card info is simply not available. Almost all Web sites, including the one you're reading right now, go down from time to time. Security vulnerabilities, bad servers, maintenance and human error can all bring sites to their knees. It would be really nice if Chase let us customers know why their site is down and if our personal records have been compromised.
It may be frustrating, but most Web sites that crash  don't have an immediate or adverse impacts on visitors' lives. If Twitter or your local newspaper's sites are down you might miss reading an article or getting an update.Fortunately, there are alternatives to those sites. But consumers generally only have one site to go to if they need to pay their mortgages, make car payments or check on their checking account balances.
When Chase.com, or any other bank's site, goes down you should NEVER look for alternative login pages. Scammers often create fake pages that look similar to online banks' sites and sending out spam email to lure frustrated bank customers. You should never click on a link in an email or search engine to login to your bank. Instead, make sure to type the URL (such as www.chase.com, www.bofa.com, etc.) directly into your web browser's address bar.
Most sites that really matter to us consumers belong to organizations that also have call centers or physical storefronts. To minimize the risk of missing a payment or worse, I suggest creating a backup plan for each Web site that really matters to you.
The process of creating a backup plan is fairly simple. Simply jot down a list of each Web site that would cause you serious hardship were it to go down. Next to each site's name, write down the company's customer support phone number, its nearest location and hours of operation (both phone and physical location). You may also want to jot down your username, but you should not keep a list of your passwords (you should have a secure place for your passwords or memorize them if you can). The last thing you need to do is make sure that you'll always have access to this list. I suggest storing it in a secure place in your home and online, such as within your email account or a cloud service such as Evernote or DropBox. These 'cloud services' are accessible from any web browser and most smartphones, which is important if your home Internet connection goes down. It's also important to keep copies of recent statements stored where you can access them since some banks and other services require you to provide account information to access phone services.
I highly recommend keeping a backup plan in place for online banks, brokerages, insurance companies and any medical services that you employ. Like many, I only receive electronic statements and do most of my banking online. But Chase.com's downtime is a reminder that stuff happens and not to rely solely on the Internet to manage our money and other important services.
Having a backup plan for your online banking and insurance services can potentially save you from losing money, missing a payment and stressing out should a site go down. I also suggest keeping copies of your email and other important information on your computer, even if you enjoy using online email systems, such as Gmail. Should you lose your connection to your email provider, you'll still be able to access old emails. This can be done easily by setting up an application like Outlook or Thunderbird on a PC, or Mail on a Mac.
Advertisement