Microsoft's Macintosh Business Unit or MacBU finished putting the final touches on Microsoft Office for Mac 2011 and is now releasing it to manufacturers for installation. To celebrate the team has announced a few more new features, and some that didn't make the cut.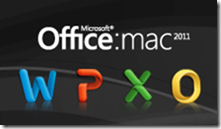 We showed you some of the new features in the Office for Mac 2011 suite already along with video and details previewing the new suite. We also brought you the pricing for the new release.
Now we have a look at the final new features to be added to Office for Mac 2011.
"Co-authoring: Worry free co-authoring tools give you the capability to simultaneously edit the same Word document, or PowerPoint slideshow with other people in different locations. Documents can be stored in the cloud using SkyDrive for consumers, and SharePoint for business users.

Office Web apps: Online companions to Office 2010 and Office for Mac 2011, Office Web apps allow you to get things done when and where you want, from virtually any computer with an Internet connection. You can view your documents in high-fidelity, make light edits on the web, and then open them again in your Office 2011 applications to continue editing with access to all of the functionality you need.

Scheduling Assistant: Improved in the brand new Outlook for Mac, this feature allows you to see your calendar in-line with your mail to create a more efficient workflow. If you're an Exchange user, you can view more of your co-workers shared calendar details in the scheduling assistant and easily track attendee responses right from your meeting request.

Broadcast Slideshow: You might have heard about this cool feature that was unveiled in PowerPoint Office 2010, and now we are very excited to confirm that it will also be included in PowerPoint for Mac 2011. This is a great cross-platform feature that lets you literally broadcast out your presentation giving you control over what is seen and when all that is required is a browser connection."
In addition, you'll also find these new features that make it worth the upgrade from Office for Mac 2008.
Basic photo editing from within the applications
Sparklines are mini charts that will fit into a single cell in Excel
Using Web Apps users will be able to create, edit and access documents online
Conversation view of email messages in Outlook
Updated Outlook database which will help with searching
Template gallery will give users access to previously designed documents that can be used to make their own docs and presentations
Ribbon interface in all applications
Now they are cheering. Unfortunately, not all they wanted in the new release made it into the final product. Hit play below to see that MacBU can can poke fun at themselves.
Advertisement