Lenovo quietly introduced a new charging option for notebooks that adds an easy way to charge and attach multiple USB devices to your laptop on the road. The Lenovo Power Hub is a laptop charger that also comes with 4 USB port.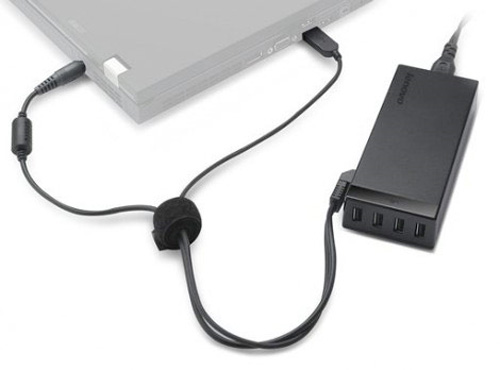 Unlike some options we have seen, which are designed just to charge your gadgets, the Lenovo Power Hub also connects the charger's USB ports to your notebook so that you can access them.
The Charger works with 90W and 65W ThinkPad laptops and allows USB data transfer over 3 of the built-in USB ports while a fourth offers a dedicated charging solution.
This is a welcome addition for dedicated road warriors and gadget lovers who need to top up their phones and cameras while they take a tech pt-stop. For users who need to power even more devices, check out a solution that adds an extra power outlet to your notebook's power adapter.
The Lenovo Power Hub retails for $74.99 and is available now direct from Lenovo. There is a $25-$35 price premium over the standard Lenovo chargers.
Via JKOnTheRun
Advertisement