LaptopsAnytime is in the process of rolling out netbook and laptop vending machines to libraries, schools, hospitals, courthouses and other locations to allow patrons to get online. People that need to get some work done or pass some time can simply swipe their credit cards to unlock one of the laptops from the LaptopsAnytime machines. If you walk off with a computer you'll likely see a big charge on your credit card statement.  Schools can allow students to check out computers and monitor their usage.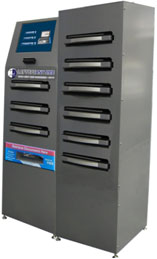 https://www.youtube.com/watch?v=zA3MvbBGz6E&feature=player_embedded
I'd much rather use one of my own notebooks than a comunal one, but there have been times I could've used a rental.
LaptopsAnytime customers can rent computers for anywhere from five minutes to five hours. The company appears to be trying to keep things simple and does not provide a power cord. All personal info, web history and documents are removed from the computers once they're returned to the vending machines.
Advertisement