Laptop stands are a dime a dozen so when AViiQ released the super thin and light fold up portable laptop stand last May we were pretty impressed with what this accessory might be able to do — even with an $80 price tag.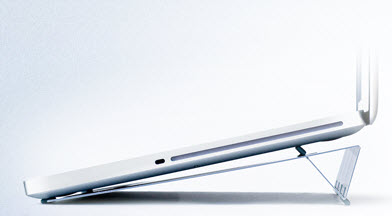 The stand folds flat to about 1/4″ thin and weighs just 5.5 ounces which lends it to fit in a bag without weighing you down. The big sell, aside from heat dissipation, is that the stand places your keys at a 12 degree angle for a more ergonomic typing experience in the air or on the road.
After a few months for waiting we found a review of the AViiQ Portable Laptop Stand on Butterscotch.com and have included their video review below.
The reviewer didn't get into the details that will matter to many users, such as how it handles fast typing sessions or how well it dissipates heat, but it was nice to get a closer look. In the end it appears that it is a good-looking, but pricey laptop accessory for travelers.
Advertisement