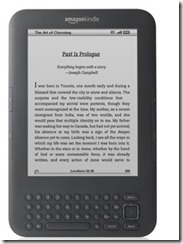 Amazon's newest Kindle is now shipping. If a buyer ordered on the first day of pre-orders, he or she will receiver shipment soon as they are going out today.
Amazon announced that the newest version of their popular eReader is the fastest selling version. They did not divulge actual numbers but did say that they sold a larger quantity in the first month of its pre-order than previous versions in that same period of time.
The new Kindle comes in two forms with one having only Wi-Fi for syncing over a local wireless network. The other adds 3G cellular capability via Sprint's network allowing users to download books even away from a Wi-Fi hotspot, just like they could with previous iterations of the product.
The newest Kindle is drastically reduced in cost from the first version. The 3G model is only $189 while the Wi-Fi only model is just $139.
As of today, Amazon announced, there are over 670,000 eBooks available for the device. Amazon is outselling the iBooks app for the iPad at a rate of 60 to 1. The Nook from Barnes and Noble is another competitor as is the Sony eReader.
Source: TechCrunch.
Advertisement