Kensington has a new line of iPhone 4 compatible accessories including two new battery packs that will boost and charge the iPhone 4 as well as previous models of the iPhone and  iPod Touch.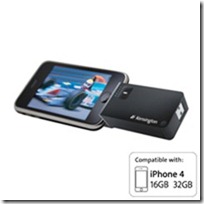 The Kensington Travel Battery Pack and Charger is designed to give an iPhone 4 a boost of power without any charging cables necessary. It is intended for travel use with all the connectors built into the device. A USB connector pivots out from one end to plug into either a computer's USB port or a USB wall adapter sold separately. When plugged into the iPhone, the battery backup holds the phone at an angle comfortable for viewing video or leaving it on a hotel nightstand. There is a power indicator so the user can see how much battery life is left in the backup. The lithium-ion battery promises up to 23 extra hours of music, up to 7 hours of video and up to 5 hours of talk time. The dock connector is protected by a folding cover that also doubles as the part that holds the device at the right viewing angle to serve as a stand. It is $69.99 retail.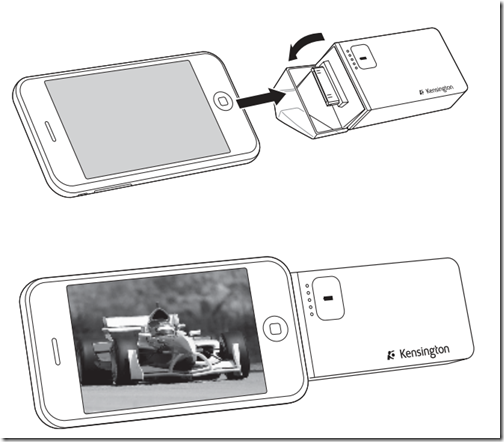 Kensington is also offering the Kensington Mini Battery Pack and Charger. This is a small battery that connects via the dock connector extending the battery for up to 15 hours of music, 4 hours of video, and 3 hours of talk time. There is a retractable USB cable included for charging the battery back up via a computer or other USB charging adapters. There is also an LED battery meter to show how much remaining power is left in the battery backup. A small leg folds back to hold the phone at a comfortable angle. The Kensington Mini Battery Pack and Charger retails for $39.99.
Advertisement