According to an unconfirmed source, an Android 2.2 Froyo update could be coming to the Motorola Droid X within the next 24 hours. If you absolutely can't wait for the update directly from Motorola, there is a way to achieve Froyo bliss right now.
The unconfirmed source posted a picture of the settings page on their Droid X, detailing "SDK version: 2.2." Whether or not this is legitimate remains to be seen, as Motorola itself hinted at a September Froyo update for the Droid X.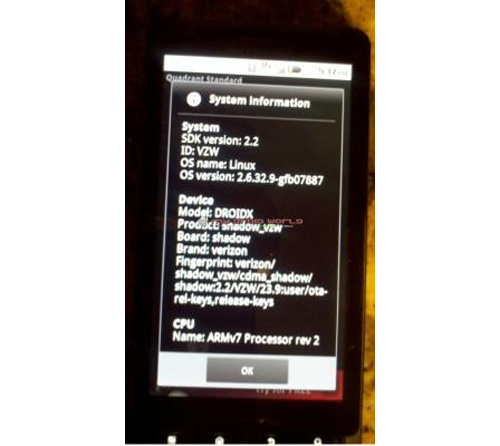 Supposedly, upgrading yourself doesn't risk bricking your device; if this is your cup of tea, check out the instructions from MyDroidWorld.
So, why do you want Froyo on your Droid X? Good question. There are a number of reasons. First off, this update should come with Flash. Theoretically, this is great because you can view full websites with all of their Flash elements. However, as LAPTOP Magazine discovered, maybe Flash on mobile devices isn't such a great idea. Aside from Flash, Android 2.2 Froyo enables the use of Google's new Voice Actions and Chrome to Phone, which are two useful features that come pre-installed on the Motorola Droid 2. Android 2.2 Froyo is supposed to run a lot faster, too.
Advertisement