According to Download Squad Google and Verizon have teamed up on a Chrome OS powered tablet that will be available on the Verizon Wireless network starting on Black Friday 2010.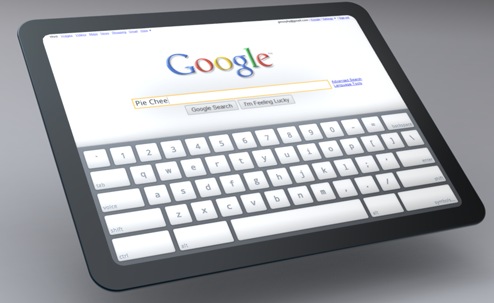 Google Chrome OS tablet mock-up
An un-named source tells Download Squad that the Tablet will be made by HTC and go up for sale on November 26th, otherwise known as Black Friday; a time when shoppers are already in a frenzy for post Thanksgiving deals.
There aren't any official specs or pricing available yet but if the rumor is legit you can expect a subsidy that will make the device cheaper than an iPad; so long as you sign a 2 year data contract.
Download Squad suggests that a Google Tablet running Chrome OS will, "be based on NVidia's Tegra 2 platform and sport a 1280×720 multitouch display, 2GB of RAM, minimum 32GB SSD, WiFi/Bluetooth/3G connectivity, GPS, webcam, and possibly expandable storage via a multi-card reader."
The news does line up with the recent spotting of a Verizon mention in the Chrome OS source code.
Given the closeness of Verizon and Google this is a possibility and if it really is a Chrome OS tablet, rather than an Android tablet, it will be interesting to see how it compares to other rumored Verizon tablets.
Advertisement