Windows Phone 7 is Microsoft's attempt to become relevant in the consumer smartphone arena. The company hopes GamHub,an integration with the Xbox Live system, will appeal to those who enjoy video games.Through Game Hub, users will be able to access the Xbox Live system to do many of the same things they can do with their on their game consoles, including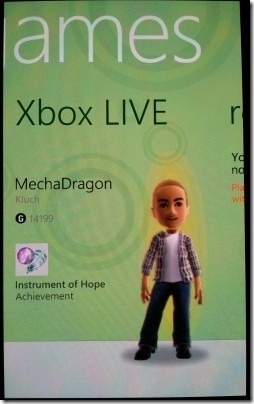 actually playing games. There will be 60 games in the Game Hub when Windows Phone 7 officially launches in a couple of months according to Betanews.com.
Games available in Game Hub is as:
D Brick Breaker Revolution (Digital Chocolate)
Age of Zombies (Halfbrick)
Armor Valley (Protégé Games)
Asphalt 5 (Gameloft)
Assassins Creed (Gameloft)
Bejeweledâ"¢ LIVE (PopCap)
Bloons TD (Digital Goldfish)
Brain Challenge (Gameloft)
Bubble Town 2 (i-Play)
Butterfly ( Press Start Studio)
CarneyVale Showtime (MGS)
Castlevania(Konami)
Crackdown 2: Project Sunburst (MGS)
De Blob Revolution (THQ)
Deal or No Deal 2010 (i-Play)
Earthworm Jim (Gameloft)
Fast & Furious 7 (i-Play)
Fight Game Rivals (Rough Cookie)
Finger Physics (Mobliss Inc.)
Flight Control (Namco Bandai)
Flowerz (Carbonated Games)
Frogger (Konami Digital Entertainment)
Fruit Ninja (Halfbrick)
Game Chest-Board (MGS)
Game Chest-Card (MGS)
Game Chest-Logic (MGS)
Game Chest-Solitaire (MGS)
GeoDefense (Critical Thought)
Ghostscape (Psionic)
Glow Artisan (Powerhead Games)
Glyder 2 (Glu Mobile)
Guitar Hero 5 (Glu Mobile)
Halo Waypoint (MGS)
Hexic Rush (Carbonated Games)
I Dig It (InMotion)
iBlast Moki (Godzilab)
ilomilo (MGS)
Implode XL (IUGO)
Iquarium (Infinite Dreams)
Jet Car Stunts (True Axis)
Let's Golf 2 (Gameloft)
Little Wheel (One click dog)
Loondon (Flip N Tale)
Max and the Magic Marker (PressPlay)
Mini Squadron (Supermono Limited)
More Brain Exercise (Namco Bandai)
O.M.G. (Arkedo)
Puzzle Quest 2 (Namco Bandai)
Real Soccer 2 (Gameloft)
The Revenants (Chaotic Moon)
Rise of Glory (Revo Solutions)
Rocket Riot (Codeglue)
Splinter Cell Conviction (Gameloft)
Star Wars: Battle for Hoth (THQ)
Star Wars: Cantina (THQ)
The Harvest (MGS)
The Oregon Trail (Gameloft)
Tower Bloxx NY (Digital Chocolate)
Twin Blades (Press Start Studio)
UNO (Gameloft)
Women's Murder Club: Death in Scarlet (i-Play)
Zombie Attack! (IUGO)
Zombies!!!! (Babaroga)
Below is a video of the Game Hub demo at Microsoft's announcement earlier this year.
With this list Microsoft hopes to make a Windows based smartphone more than a business tool. The Game Hub is a tile on your WinPhone7 main screen that is always connected to your Xbox Live account and will display information and alerts, such as installed games, offers, and even notification of your turn in a turn based game. It will also display your Xbox Live avatar.
Mobile gaming is changing. The Apple iPhone sells a lot of games already, leaving some to wonder if dedicated portable gaming devices like the Sony PSP or Nintendo DS are waning in importance in the mobile gaming segment. Microsoft's  control over their gaming portal may help while Apple has yet to release their Game Center, a similar product from Apple for the

iOS devices. The difference is Microsoft has a large gaming community already. But will they be able to translate that into a mobile gaming community too? Google is also trying to establish itself in the mobile gaming market with the Android platform. Google just announced an investment in one of the largest iPhone Game developers, ngmoco.
Advertisement