With the Fall semester commencing this month for most students, many are wondering how to use their shiny new MacBooks and MacBook Pros to take notes in class. Below are a few options, ranging from word processing and dedicated notes applications, to free, online note management applications and external peripherals.
Word Processing Applications
If you are looking for a straightforward text input program, there are quite a few paid and freeware options for Macs.These applications have the most formatting features, allowing users to quickly turn a page of notes into a polished report.
First is the obvious Microsoft Word for Mac, which is part of the Office for Mac software suite. Before, Word for Mac had similar functionality to Word for Windows PCs, but some of the features were lacking. With the release of Office for Mac 2011, Microsoft's Mac Business Unit strived to make the Office experience on a Mac very similar to Microsoft Office 2010 for Windows PCs. For more information on Office for Mac 2011 , check out Microsoft's Mactopia website. Also, check with your college or university bookstore to see if they have deals on Office for Mac. Many schools offer it for around $25, which is quite the steal. Otherwise, Office for Mac 2008 is available from Microsoft, starting at $149.95. Office for Mac 2011 will be available sometime this October, starting at $119. If you need Office for Mac right now, you can buy Office for Mac 2008 from Microsoft and upgrade to Office for Mac 2011 for free upon its October release.
Another option, which comes straight from Apple is Pages, which is part of Apple's iWork Suite. Pages offers a more user-friendly interface than Word for Mac. It is easier to create outlines, which would be particularly useful for taking notes in class. You can also expand and collapse topics to make organization a little easier. Apple also created an alternative to the cumbersome organization of outlines, which normally require pressing Tab to create a sub-category. With Pages, to reorganize you just drag and drop to promote or demote items. Additionally, the multiple page view helps you quickly find the page you are looking for. Science and math majors will delight in the fact that complex equations can be integrated directly into the document using the built-in MathType 6, and business majors can drop a quick, impressive looking graph into their notes with ease. Apple iWork, which includes Pages, Numbers, and Keynote, is available for $79.00.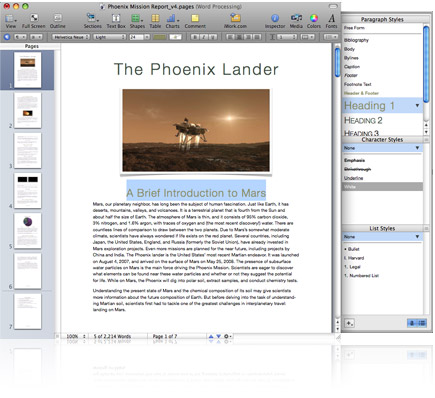 Aside from these two paid options, there are a few free word processing alternatives for Macs. OpenOffice and NeoOffice are both fully functional word processing applications that can create files that are compatible with many other applications. Best of all, they are both free! The OpenOffice suite comes with applications for creating text documents, spreadsheets, presentations, databases, and drawings. Both OpenOffice and NeoOffice are available as free downloads.
Dedicated Notes Applications
Word processing applications are fine and can be very useful, but they're not designed to organize all of your notes.There are solutions that can help keep all of your notes neatly organized so you can access them at a moment's notice from just about anywhere.
With Together, you can organize notes in a fashion similar to Apple's iTunes, using tags, color-coding, labels, folders, and groups. Preview and edit many different file formats such as text documents, images, PDF files, movies, bookmarks, webpages, and much more. Together is available for $39.
SOHO Notes 8 is a note-taking application that can be used to "capture, organize, sync, and share all of your stuff including text notes, PDF's, images, voice recordings, videos, forms, and web archives." It too lets you organize in a similar manner to iTunes. One way SOHO Notes 8 differs from Together is SOHO Notes 8 allows you to attach contacts, tasks, and notes to other notes, creating relationships and syncing with your calendar client. What's really impressive about SOHO Notes 8 is that it can sync between all of your Apple devices, whether that be another Mac, an iPod, or an iPhone. SOHO Notes 8 is currently available for $39.99.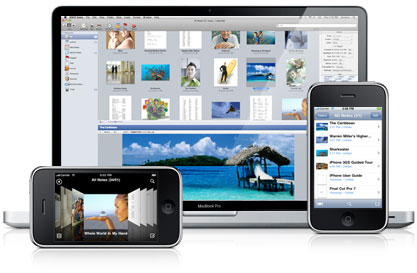 Online Note Management Applications
There are many online resources that will help you organize notes. However, the one we will be covering is the popular Evernote. This service allows you to organize text, images, videos, voice notes, and much more. Unlike Together or SOHO Notes 8, Evernote can automatically organize your notes for you. One really cool feature is searchable text from images. If there is any text in a photo that you add to Evernote, it automatically becomes searchable. This could be really useful for students if they would want to have a specific page from their textbook in their notes and have the ability to search text within that picture. Evernote syncs with nearly all computers, phones, and mobile devices. Recently, an Evernote iPad app was added to the App Store, which would allow students to take notes on their extra portable iPad. Another recent addition to Evernote is call "The Evernote Trunk", allows users to increase Evernote's functionality.  Evernote is available as a free download. There is a premium version available for $5 a month or $45 a year that adds many premium features and increases users' monthly data allowance from 40MB to 500MB. Below is a video demonstrating some of Evernote's functionality.
External Peripherals
Aside from your Mac, there are tools that can be used in collaboration with your Mac to make note-taking easier.
Personally, I use a Livescribe Pulse Smartpen to take notes and I love it. It's a little pricey but well worth it. What the Smartpen does is digitize my notes and pair them with audio recorded during class. If I can't read a specific part of my notes, or I missed something because I dozed off, I can tap a specific spot in my notes and hear what the professor was saying at that point in time. When I get back to my dorm room, I can connect the Smartpen to the dock to charge and sync my notes to the Livescribe Desktop. Here, all of my handwritten notes, plus recorded audio, appear just as if I were looking at them in my notebook. Better yet, I can search for a specific word that I wrote, which makes studying a whole lot easier. Plus, the recent app store that was created for Livescribe Smartpens enables extra functionality like translators, dictionaries, and even musical instruments.
What I like about the Pulse Smartpen is that I don't have to stress out about jotting down every single word, as I can just listen to that specific part of the lecture later if I need to. Also, instead of trying to create complex charts on my Mac in the midst of a business lecture, I can just draw them. The Pulse Smartpen is available starting at $129. Check out the mildly creepy video demonstration below.
Pulse actually just released a newer, more ergonomic version of their Smartpen called the Echo Smartpen, which will soon double as a pseudo graphics tablet once a software update is released. It is available starting at $169.95.
Advertisement