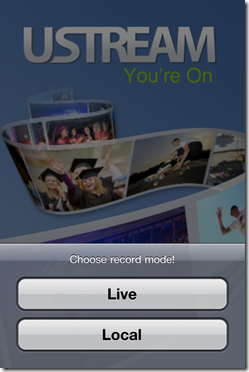 Ustream.tv is a website dedicated to giving average people an online video voice. While there are shows for almost any category you can imagine, I used the service along with my iPhone to inform the members of our church on the progress of our mission trip to Madison, WI this past week. I chose to stream to our Church's show since it is already embedded in our church website. But you may want to create a whole new show for just your trip or event.
If you're new to Ustream, this would be a good time to learn about setting up an account on Ustream.
To create a new show, sign in to your Ustream account and then click on your account name. There will be a set of tabs across the top. Select Your Shows and then fill in the information in the Create New Show section along the right. After you do, the show will be in the drop down list at the top of that page.
Select it and fill in the information.
Upload a logo to represent the show, if you like.
Put the show in the one of the categories Ustream has set up. That will help people find the show.
Then tag it to further help them search for it.
Finally describe the show and hit Save Changes.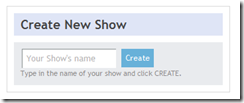 The next step in your setup is to click on the Profile tab. There you can add your account information for Twitter, YouTube, Facebook and others. I like to have Ustream send a Tweet to Twitter and update my Facebook profile when I go live. That way friends and family interested in my trip updates will know when updates are taking place live and can watch them. We often had a handful of people tune in live on our trip.
Our church's mission trip was to a smaller struggling church in Madison, WI. We went and helped them work with the forty plus kids in their low-cost day care. We also did some painting and light construction work. Finally, I helped one of the churches set up a web site with WordPress. Our people back home who wanted to know how things were going, could thanks to Ustream. I did video updates a few times each day to keep them apprised.
To do a video update you will need to either take video using a camera and upload it to Ustream. Or you can choose to do just what I did and use the Ustream Broadcaster app and an iPhone, Android phone or Nokia phone.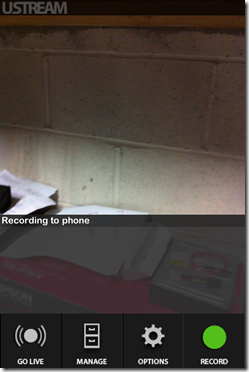 With this handy tool you can use the phone's camera and update your Ustream show. I used the iPhone app with my iPhone 4. The Android or Nokia app may differ.
When you open the app, it will ask if you want to go Live or record to Local. Live sends the video up to Ustream's web site and onto any site you set up with the embedding code provided by the web site. You find it by clicking the Menu button on the bottom of the video viewer. I put it on our church's web site. The Local recording will save the video to your phone. That way you can upload it later. This is best for those times when you want to record some video but don't have a good connection to the Internet. That happened a lot on my trip.
To upload local video just choose the Manage button and there will be a list of videos to upload. The app compresses it and uploads the videos pretty quickly. Options will let you tell Ustream which social networking sites to use when uploading. If you choose to go Live the button above that says Record (green circle) will say Go Live instead. Tap it to start broadcasting and send a message to the social networking sites you prefer.
The video quality changes depending on your connection. I was in a low quality connection, so most of my videos were really choppy. In the past, I've had better quality videos, but the area we were in had terrible AT&T coverage.
Using Ustream and their mobile app is a great way to inform people about a trip or event. You could update family on your vacation, stream video about your kid's ball game to family or friends who can't attend, or some news event you want to cover for your website.
Advertisement