Toshiba Australia's Managing Director, Mark Whittard, previewed Toshiba's new tablet recently and suggested that the Toshiba "Smart Pad" would be hitting the market before October 2010.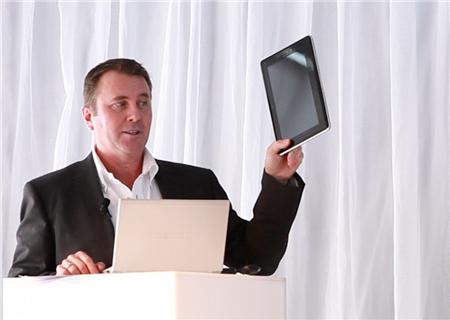 A few months ago, Toshiba announced plans for a Windows 7-based Libretto W100, as well as an Android-based AC100 smartbook. Additionally, company is now taking steps towards releasing an iPad-like tablet, in hopes to compete in the emerging tablet market.
Not much information was released about the company's new touchscreen device. However, Whittard did reveal that the Smart Pad prototype supports both USB and HDMI connectivity. Additionally, it has a digitizer supporting multitouch input, and either Google Android or Windows 7 as the operating system.
Toshiba is still researching as to which operating system would be better suited to the Smart Pad. This decision is something other companies have struggled with as well. There is also the possibility of both versions being released, satisfying Windows 7 and Android fans. No further information about the tablet prototype has been revealed.
Via Slashgear
Advertisement