Livescribe introduced the Echo Smartpen, the company's successor to the Pulse Smartpen. Many improvements have been made, including a new sleek design.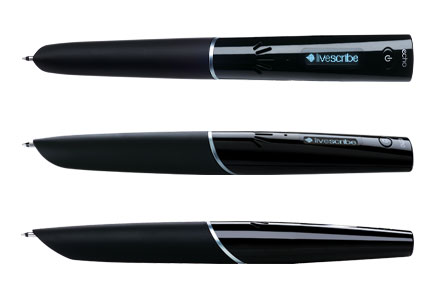 The original Pulse Smartpen enabled the taking of written and recorded notes. Using the company's innovative Dot paper, built-in infrared camera, and built-in microphones, recorded notes were paired with written ones, allowing users to tap a specific part of their notes and hear the audio that was recorded at that moment. The Pulse Smartpen is still available for $129.95 (2GB) or $229.95 (4GB).
Building on the Pulse Smartpen's success, the Echo Smartpen has many of the same features, while adding a few new ones. Sporting a sleek, easier to hold design, the Echo Smartpen features:
Increased storage capacity – 4GB or 8GB
Micro-USB connector – Transfers notes and audio while recharging the Smartpen
3.5mm jack – Allows for connection of your favorite headphones
Password protection
Launch Line – Access and launch applications in seconds
Custom Smartpen Name – Display a custom name on the OLED display
Pencast Import/Export – Share notes with anyone using the Livescribe Desktop
The new Echo Smartpen takes advantage of the expanding Livescribe Application Store, featuring educational applications like dictionaries and translators to games such as Sudoku.
Livescribe will be releasing updates this Fall. Included in these updates will be the ability to email pencasts once the Smartpen is plugged into a computer. Also, when plugged into a computer the Smartpen will act as a graphics tablet, enabling the user to draw freehand with the image being shown on the computer screen. This could be a useful solution for artists wanting an extremely mobile version of a graphics tablet.
The 4GB and 8GB Livescribe Echo Smartpens are currently available from Livescribe, as well as other various retailers for $169.95 and $199.95, respectively.
Advertisement