The Getac V100 Convertible Laptop will soon be seeing an upgrade. This new version of the rugged laptop will include an Intel Core i7 processor among many other performance and feature upgrades.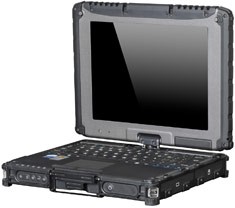 "Getac provides premier fully rugged, rugged and semi-rugged notebook, tablet PC and handheld solutions for the military, law enforcement, public safety, utility, telecommunication, manufacturing, field service and mobile workforce industries."  – GV100 press release
The V100 is included in their "fully rugged" category.
The upgraded V100 features:
10.4-inch sunlight viewable, multitouch, convertible display (features glove-friendly operation)
1.2GHz Intel Core i7 processor
320GB shock-mounted HDD
83-key waterproof backlit rubber keyboard
2-megapixel webcam
SD card slot
Bluetooth
Optional 3G and GPS system
5 lbs
There is currently no information regarding pricing or availability, but don't expect this laptop to run on the cheap end. One competing laptop, the Panasonic Toughbook CF-19, runs for about $3,280 at TigerDirect. Ruggedness has its price.
The original V100
Via Engadget
Advertisement