Verizon Wireless and Samsung Electronics Corporation announced that the Samsung N150 Netbook is available today with an embedded Verizon Wireless 3G modem for $49.99 after $100 mail-in rebate and a 2-year mobile data contract.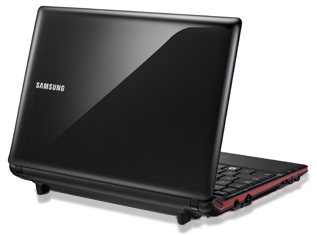 The Samsung N150 sports a sleek look with up to seven hours of battery life and built-in Verizon Wireless Mobile Broadband network connectivity. The new netbook is global ready with a pre-installed SIM card for access in more than 200 countries, 110 with 3G speeds. It also features a built-in chargeable USB port for charging other mobile devices when the N150 is turned off. This feature is very similar to other USB "Sleep and Charge" ports found on recent Toshiba laptops.
Samsung N150 specs:
10.1-inch non-glare LED backlit display (1024×600 resolution)
1.66GHz Intel Atom processor
Up to 1GB of DDR2 RAM
160GB HDD
Intel GMA 3150 graphics
Webcam
Near full-sized keyboard (93%)
Stereo speakers
802.11b/g/n WiFi
Bluetooth 2.1
Built-in 3-in-1 card reader
Windows 7 Starter Edition
To order the Samsung N150, customers must sign up for a Mobile Broadband plan, offered on a monthly or pre-paid basis. For more on this check out What You Need to Know About Subsidized Netbooks.
Monthly Plans

$39.99/month for 250MB
$59.99/month for 5GB

Pre-paid Plans

$15 for 75MB
$30 for 250MB
$50 for 500MB

GlobalAccess Plans

$129.99 for 5GB in the US and Canada and 100MB in select destinations
$219.99 for 5GB in the US and Canada and 200MB in select destinations
Pay Per Use – $0.002/KB in Canada, $0.005/KB in Mexico, and $0.02/KB in more than 200 other areas.
The Samsung N150 is available for order today in Verizon Wireless Retail Stores and online for $49.99 after $100 mail-in rebate with a new two-year contract.
Review of the Samsung N150 netbook (not on the Verizon Network):
Advertisement