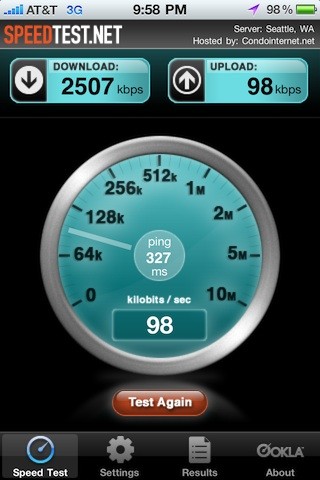 It looks as though AT&T is not intentionally capping iPhone 4 upload speeds at 100kbps. Rather, the decrease in speed is most likely due to faulty equipment.
Blaming Alcatel-Lucent equipment, AT&T claims that the uploads are reverting back to non-HSUPA UMTS speeds. AT&T also claims that this has only occurred under certain conditions and is affecting less than two percent of AT&T's customers. Below is the full statement from AT&T regarding the slow upload speeds.
"AT&T and Alcatel-Lucent jointly identified a software defect — triggered under certain conditions that impacted uplink performance for Laptop Connect and smartphone customers using 3G HSUPA-capable wireless devices in markets with Alcatel-Lucent equipment. This impacts less than two percent of our wireless customer base. While Alcatel-Lucent develops the appropriate software fix, we are providing normal 3G uplink speeds and consistent performance for affected customers with HSUPA-capable devices."
This statement puts the claims to rest that the company is purposefully capping upload speeds at 100 kbps. Though many users are experiencing this dismal performance, a fix is in the works.
Via Engadget
Advertisement