When it comes to back to school promotions, Apple reigns supreme. If you are a returning college student, an incoming freshman, the parent of a student or a teacher yourself — there are plenty of deals on Macs to be had that will get you up and running for the coming school year.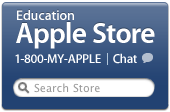 First things first; you need to get on Apple's Education website. Once there, choose your College or University and then click "Shop for Yourself". Once you have chosen a school, significant discounts are offered on all Mac computers. The discounts are as follows:
Printer Promotion
In addition to these discounts, there are many other promotions that you can take advantage of. With the purchase of a new Mac, Apple will give you $100 towards a new printer, via mail-in rebate. Not all printers apply, so be sure to choose a printer from this list. If you want a printer that costs more than $100, all you have to do is pay the difference. To qualify for this promotion, buy any Mac and qualifying printer. Once the items are received, use this rebate claim website to send the pertinent information to Apple.
iPod Touch Promotion
The deal that has more and more college students psyched about getting their first Mac is the iPod Touch back to school promotion. During this promotion, which is active through September 7th, you get a free 8GB iPod Touch or $199 off any iPod model via mail in rebate with a qualifying Mac purchase! Even if the iPod Touch doesn't really tickle your fancy, you can still apply that discount to an other iPod model (sorry, no iPhone or iPad discount). To take advantage of this promotion, add a qualifying Mac to your cart, then choose an iPod model. Once both items are shipped to you, get the required information and send it to Apple using this rebate claim website.
Adobe CS5 Promotion
Another promotion that is new this year for Apple is the student discount on Adobe CS5 products. As it stands, if you are a student, you already save a large sum of money on Adobe products. For example, non-students pay $1899.95 for the Adobe Creative Suite 5 Design Premium. Students only pay a mere $449.95. In addition to this discount, which Apple has offered for a while now, Apple now offers up to another $100 off, making the final price of the CS5 Design Premium bundle $349.95. That's a total of $1,550 off!
The available Adobe CS5 discounts are as follows:
Adobe Photoshop CS5 Extended STE Bundle – Save $30
Adobe Creative Suite 5 Web Premium STE Bundle – Save $100
Adobe Creative Suite 5 Design Standard STE Bundle – Save $100
Adobe Creative Suite 5 Design Premium STE Bundle – Save $100
In order to get this discount, you need to choose a qualifying Mac (everything but the Mac mini), call 1-800-MY-APPLE to complete your purchase, and verify your eligibility within 30 days of receiving your order. The verification includes a current student ID with picture and date and can be filed online through this website.
Additional Promotions

Other smaller promotions include Free Ground Shipping on orders over $50, $30 off Apple's iWork software, and $30 off Apple's MobileMe service.
If you are headed back to school, be sure to take advantage of these promotions, as it will save you a hefty amount of money. How much money exactly? If I were to get a 27″ iMac, iWork, MobileMe, Adobe CS5 Design Premium, Lexmark Interact S605 printer, and a 32GB iPod Touch, I would save a total of $2,009. Yeah, my jaw dropped a little, too.
Advertisement