AT&T recently announced that it will carry the Samsung's newest Android based phone, the Samsung Captivate. This will be AT&T's fifth Android phone.
The Samsung Captivate sports a large 4-inch touchscreen and the Android 2.1 OS.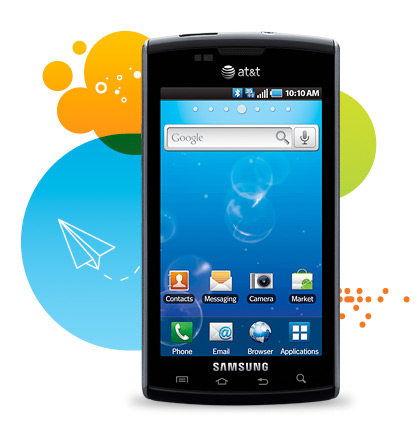 Samsung Captivate features:
Super AMOLED 4-inch touchscreen – Consumes much less power than OLED or LED displays.
1 GHz Cortex A8 Samsung application processor
Six-axis motion sensor
3D Graphics engine
Surround-sound audio
5-megapixel camera
720p video capture
Samsung Social Hub – A similar service to MotoBlur that syncs your social networks together in one screen.
16GB internal memory, Expandable memory up to 32GB
Android Market
Evidence that AT&T is finally trying to incorporate more Android smartphones into its network, the Samsung Captivate will be sure to grab some attention when it is released. Currently, AT&T has yet to disclose pricing or availability. Sign up to receive an email as soon as the device hits AT&T's stores.
Advertisement