When Steve Jobs announced the new iPhone, one of the most interesting new features is what Apple is calling the Retina display. It is a 3.5-inch display with a 960×640 pixel resolution and an 800:1 contrast ratio. That is an amazingly high resolution for such a small screen. With 326 pixels per inch, detail is going to be very high. One of the challenges this poses to developers is that they have to pay very careful attention to detail. Suddenly, what was passable on the current generation iPhone might start to look very bad with all those pixels staring you in the face.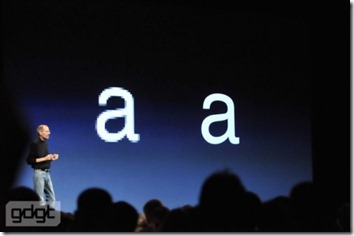 I know a developer named David Trotz who works for OliveTree, a company that produces a high quality book reader for both the iPhone/iPod Touch and the iPad. It is a niche app that focuses on books related to Bible study. It is a visually attractive app and he has been working very hard on it over the last few months – first to get it ready for the release of the iPad and now for the release of the iPhone 4 with the new display. He has also created an app called Password Caddy, a handy little app used for organizing and maintaining all your passwords for the Internet in one place on your iPhone.
David said, Designing for the Retina Display demands obsessing over the placement of every pixel." I can only imagine how hard that must be. But I know it will be worth it. Book reading apps are going to benefit from the high resolution.
He asked on Twitter, Is it wrong of me to work really hard on the graphics in BibleReader for the retina display because I want my iPhone4 to look amazing?" BibleReader is the app OliveTree distributes.
As an avid user my response was, No way! Make it look great!"
We users don't fully appreciate all that goes into building these great apps, or any software application for that matter.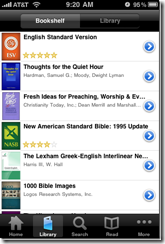 Dave Dunkin works on another app, very similar to BibleReader, for a company called Logos. They have a Mac and Windows version of their software. They also have a smaller version for the iPhone and iPad. He worked with a team of five people to get the app ready for release last November. For their app they not only had to make it work on the iPhone/iPod Touch, but in sync with the computer application and a web site as well. They had six weeks to get it out, going from nothing to ready for full release to the public. That included getting it through the Apple approval process.
Dunkin shared with me the steps he and his team went through. It began with the idea and design phase. Then they crunched the code and tested it in-house with employees who have iOS devices. After that, they decided to submit it. The first time was about a week ahead of the launch of their new desktop application. They wanted to them to coincide with one another. But you have no control over Apple's approval process. All you can do is predict when it might be ready to go. It took a week for Apple to approve it and it actually beat the release date of the desktop application by a day.
The process of submitting an app is simple. You upload the app to the Apple servers and wait. Once the app has been initially approved it normally takes between a day and a week for updates to be approved. Most of the time it is 2-3 days. If it is rejected, he said that Apple is good to give specific details as to what is wrong so he can fix it and resubmit and repeat the process. Now that the app is released, he works by himself on it.
Dunking shared that one time the app was rejected because of a bug that they didn't even catch in their in-house testing or with those of us who beta tested it. But Apple caught it and rejected it. This was during the iPad update. Even after repairing it, there was no obvious change in the app's behavior even after they fixed it. So, he says that Apple just got lucky in finding it or is testing them with a more thorough process than they use in-house and with beta testers.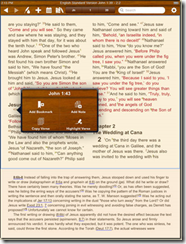 OliveTree's BibleReader app was in the process of being updated for the iPad. It was a significant change in functionality. They set a goal of getting it out by the weekend of the iPad launch. He and the other developers had to skip a conference they signed up to attend in order to get it ready. Their app allows for in app purchases of a large library of books as add-ons. For that reason Apple was much more thorough in testing of their app and despite skipping the Apple announcement of the new iPhone 4 OS, to finish the updates, it was still not approved in time. It hasn't slowed them down any as you will find OliveTree very high in their category in App store searches for both iPad and iPhone/iPod Touch apps.
These app developers work hard and sometimes don't make a lot of money. Many of them do so with great risk knowing that their app could be rejected or pulled at any minute. After talking with Trotz and Dunkin I have a big appreciation for their work, not just as an avid user of their apps, but also as someone who just appreciates technology.
If you are interested in these apps, I have done some reviews on my personal site. BibleReader's is here and Logos is here. Below is a video I produced about Logos.
Advertisement