Soccer news website, Goal.com, could be another resource for you to use to follow the World Cup 2010 in South Africa. Containing news headlines, live scores, a mobile version of its website, and an application for your mobile device — this is a versatile site with lots of information.
Goal.com is not solely designed to cover the World Cup. Constant updates of various leagues and games are updated throughout the year. However, due to the immense popularity of the World Cup, Goal.com has a special homepage for only World Cup news, scores, and content. The World Cup homepage can be found here. This website is overflowing with information including news, game scores, schedules, team and player profiles, details on the various cities in South Africa, history, stadium guides, and forums that allow users to post their opinions.
Goal.com World Cup Homepage
In addition to the Goal.com website and World Cup homepage, there is also a mobile version of the website for smartphones, which allows you to follow the latest soccer news, live scores, and standings on the go.
If you want, you can also download the Goal.com application on various smartphones and devices. The app is available on the Nokia (S60 5th edition), iPhone, Blackberry devices , Android devices, and Windows Mobile devices. Download the version for your device, for free.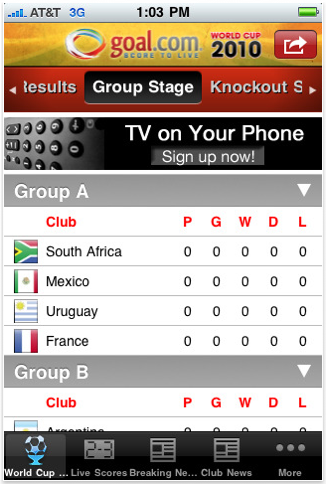 Goal.com app on the iPhone
Goal.com also makes it easy to follow the latest soccer and World Cup information right from your browser's toolbar. The toolbar features scores, forum, GoalShop, Messages from Goal.com staff, and the ability to integrate your own personal email account. You can download the toolbar for either Firefox or Internet Explorer.
Use Goal.com, plus other websites and apps, to keep yourself in the know of what's happening in the FIFA World Cup 2010 in South Africa.
Advertisement