I've never really used the iWork applications on a Mac, but I have used them for the iPad. The questions is, would you want to use them on the iPhone? If a screenshot that was discovered by someone at Pocket-Lint.com is any indication, the apps may be coming to the smaller screen.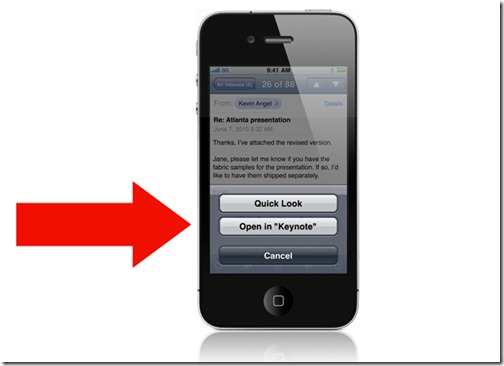 Of course now the page that originally revealed the above screen shot has been updated. See the image below which now says "Open in iBooks"  instead of Keynote. But when you read the email itself it says, "… let me know if you have the fabric samples for the presentations." Not sure why anyone would open such a thing in iBooks, unless it is a PDF.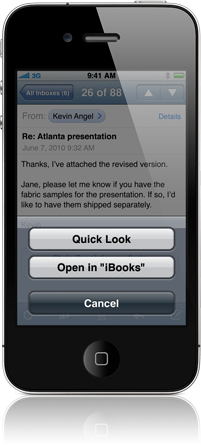 I reviewed the three iWork the three apps as well as the iWork.com Web site for the iPad. After a couple of months of using them, I can see some great uses for these apps on the iPhone.
I can imagine using the iPhone with the Dock to VGA adapter for presentations for example. It's convenient to use my iPad to make presentations already. But to be honest, if implemented well, I would rather have the presentation running on my iPhone and use my iPad to keep my speaker notes. Right now I'm using paper for my speaker notes.
Opening a file on my iPhone via the Dropbox app and then having it pop up in one of the iWork apps for quick reading or short editing, would be very convenient.
However, using the iPhone to create an iWork document or presentation would be very frustrating, even if I pair it with my Bluetooth keyboard, something possible with the new iOS 4. The other problem is that as useful as the iWork.com site may be for offloading documents and presentations, it is still not as elegant as other apps' solution. The new update to Documents To Go which lets me open, edit and save documents from Google Docs or Dropbox. Until Apple makes this happen wirelessly and automatically like Dropbox, the iWork apps won't be as useful for content creation, no matter which device they are on.
Advertisement