AT&T announced new data plans for iPhone and iPad customers today. The new AT&T data plans are priced at just $15 and $25 per month, but restrict the amount of data subscribers can use. This move will save most customers a few dollars per month, but heavy data users will be displeased.
The unlimited data plan on both the iPhone and iPad will no longer be offered starting June 7, 2010. AT&T previously offered an unlimited data plan for $29.99 for the iPad 3G. The previous iPhone data plan cost $30 per month and did not have a data cap. Those already on AT&T contracts will not be required to change plans.
The most expensive iPhone/iPad data plan listed costs $25 per month and provides for 2GB of data per month. An overage fee of $10 per month will cover one additional GB. AT&T isn't listing what it will charge customers for additional GB or MB.
iPhone tethering is finally a reality for AT&T customers, but you'll have to pony up an additional $20 per month on top of the $25/2GB plan.
The majority of iPhone users will benefit from the lower price, especially if they connect to a Wi-Fi network and home or at work. However, there will be a minority of users that will be negatively impacted by these changes.
iPhone text and voice plans are not changing for the time being. This means you'll still get the same number of texts and minutes for your money.
New AT&T 3G Data Plans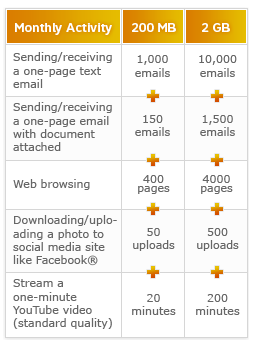 AT&T will offer iPhone and iPad users three new data plans. iPhone users will be able to switch back and forth between data plans as needed. For example, you can switch from the 200MB/month plan to the DataPro plan plus Tethering if you plan on going on vacation and want to use your iPhone to access the Internet on your laptop for a couple of weeks.
Current iPhone users aren't required to select one of the new plans, but may do so if they'd like to save some cash. However, once they downgrade they will never be allowed to upgrade back to an unlimited plan.
DataPlus: $15 per month, 200MB
This plan is limited to 200 megabytes (MB) of data per month at a cost of $15 per month. According to AT&T, that's "enough to send/receive 1,000 emails (no attachments), plus send/receive 150 emails with attachments, plus view 400 Web pages, plus post 50 photos on social media sites, plus watch 20 minutes of streaming video."
AT&T points out that this data plan is half off the previous unlimited plan and that 65% of AT&T smartphone customers use less than 200MB of data per month on average. The company however does not break out how many iPhone users go over that limit or how often.
If you do subscribe to the DataPlus plan and exceed the 200MB limit, you'll be charged $15 for an additional 200MB that can be used during the same month. The AT&T press release on the matter did not detail how much additional data would cost should DataPlus customers exceed 400MB of data. Regardless of the cost of additional MB, it'd be cheaper for these users to switch over to the more expensive 3G plan (detailed below).
The changes to AT&T's data pricing are coming just before the new iPhone is officially launched. Images and video of the new iPhone are widely available after at least three prototypes were recently leaked.
DataPro: $25 per month, 2GB
This 3G data plan allows for 2GB of data per month for $25.  According to AT&T, 2GB is sufficient for the vast majority (98%) of smartphone users on its network. Again, AT&T is not breaking out iPhone users or how often customers occasionally exceed 2GB per month. The one caveat is that the new iPhone will make it easier for AT&T customers to consumer more data. iPhone OS 4.0 will be able to run applications in the background, which (depending on the application) could draw more bits and bytes in and out without users actively using their iPhones. The new iPhone is also rumored to have a video chat feature, which would also tax AT&T's 3G network.
According to AT&T, 2GB is "enough to send/receive 10,000 emails (no attachments), plus send/receive 1,500 emails with attachments, plus view 4,000 Web pages, plus post 500 photos to social media sites, plus watch 200 minutes of streaming video."
Of course these are all just examples and your mileage will vary depending on how large your email attachments are, what kind of sites you visit and what else you plan on doing. For example, if you download and install a lot of applications from the App store you can eat through 2GB pretty quickly. Two hundred minutes of streaming video might sound like a lot on paper, but that's the equivalent of just two full-length movies. If you imagined yourself watching Netflix movies on a regular basis, or news clips on the way to work every morning you're out of luck.
DataPro customers who exceed 2GB per month will be billed an additional $10 for each GB of data that can be used in the same billing cycle.
AT&T iPhone Tethering: $45 per month, 2GB, can be used with Laptops
Those who subscribe to the DataPro plan may add tethering for an extra $20 per month, bringing their data plan cost up to $45 per month. This plan is limited to 2GB per month and an additional 1GB for $10.
The new iPhone operating system (iPhone OS 4.0) is launching with the new iPhone this summer. Many iPhone customers outside of the U.S. have been able to tether their phones to their laptops for the past year. This feature is not dependent on iPhone OS 4.0, but on the network being ready for the potential onslaught of data usage.
This plan is not designed for heavy mobile data users or for replacing your home or office Internet service provider.
AT&T, Sprint and Verizon offer data plans designed for laptop users that have a cap of 5GB per month and cost $60. These plans are primarily used by mobile professionals and others who need to access the Internet from anywhere and/or want to avoid hefty Wi-Fi charges at hotels, airports and cafes.
Mobile data plans are not designed for those who want to consume a ton of multimedia. It's a heck of a lot easier to blow through data plan limits on a computer than an iPhone or iPad. As AT&T pointed out, 200 minutes of streaming video will push you to the limit on the iPhone. Laptop users are more likely to download larger files, movies and photos.  For example, downloading HD quality movies from the iTunes store can use up to 3.5GB.
Downloading such large movies would take longer than most are willing to wait, but it's worth pointing out that some users won't be able to do what they want with 2GB. It's very easy to unexpectedly use large amounts of data on a Mac or PC. For example, many syncing, backup and update processes run automatically without asking permission. This is fine if you're on a Wi-Fi network, but not if you're being charged by the GB. If you're going to opt for the tethering plan, be sure to keep a close eye on your data usage.
AT&T Data Plan Usage Monitoring
AT&T is offering customers some tools to keep an eye on their 3G data usage.
AT&T will be sending text and email alerts when customers reach 65%, 90% and 100% of their limits each month.   Customers can then adjust their usage accordingly or upgrade to DataPro if they plan on continuing on the same path.
Like all AT&T customers, iPhone and iPad users can log in to their ATTwireless.com accounts to check up on their 3G usage. Unfortunately, the data usage on AT&T's account center is delayed by up to 24 hours. The only real-time way to monitor your 3G data usage is with the iPhone's built-in usage settings. Statistics must be reset manually however at the end of your billing cycle if you want an accurate gauge.
AT&T is also offering its customers a data calculator. While the calculator isn't perfect, it does give AT&T subscribers a rough estimate of how much data they could use. One limitation, for example, is that the calculator only allows users to select up to 10 minutes of music and 50 minutes of video per day. Obviously, those who rely on apps like Pandora and Slacker will want to stream more than a couple of songs per day.
AT&T Wi-Fi Hot Spots
One benefit of being an AT&T 3G subscriber is that you automatically get free access to about 20,000 hot spots, including McDonalds and Starbuck locations. Using AT&T's Wi-Fi hot spots does not count against 3G data plan limits.
AT&T's Wi-Fi hot spots are designed to reduce the amount of data sent and received on its 3G network. By alleviating the congestion, AT&T customers are able to place and receive calls more reliably. You can find a full listing of the Wi-Fi hotspots at ATT.com.
Advertisement