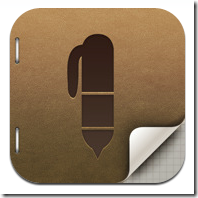 Up to this point inking (drawing with a stylus) on the Apple iPad has not been a good experience. The problem was that Tablet PC users were used to resting their wrists on the screen while drawing or writing with a stylus. On most Tablet PCs you could do this without your wrist or hand making marks on the screen. But the screen on the iPad won't allow this. You get artifacts, or little marks, from the hand that will make the page look like a mess — that is until now.
There is an update to what I consider the best inking app on the iPad, Penultimate. Our friend Sumocat at Gottabemobile.com showed off this app a while back calling it smooth" and fluid". He was right. I've tried half a dozen inking apps and this is the best. But it did suffer from the same problem that made me say in my initial post about the subject, … until there is a better app and a better tool, inking is not ready for primetime on the iPad." Well now there is.
In this video you will see how the app has been improved by adding what is called Wrist Protection." This change makes inking on the iPad a little better. It is now possible to do and you won't get a lot of artifacts on the screen where your hand has been resting.
Advertisement