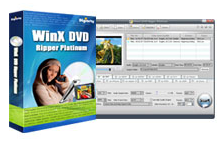 We have turned into a multimedia consuming public.  We cant wait to get our hands on music, video, and books.  So much so, that we tend to create our own digital versions of DVDs when its not available on YouTube, Hulu, or Netflix. We "rip" our own movie DVDs for us to consume on all of our devices, PCs to laptops to iPhones.  Enter WinX DVD Ripper.
The WinX DVD ripper is a great application for ripping DVDs to almost any platform and device you can think of, from Apple TV to the Zune. It can rip DVD to .mov,. avi, .flv, .wmv, MPEG and MP4.  Devices include DVD to iPhone, iPod, iPad, PSP, Zune, and mobile phone.  You name it, it will handle it. It can also rip DVD audio to an MP3 file, so really can just listen to the movie. Even CNET gives it their seal of approval.
Right now, WinX DVD is giving away their WinX DVD for Mac version free until May 1, 2010 12AM GMT.  This is the full version of the product, not something that will suddenly stop. So why would Digiarty Software, the developers behind WinX DVD want to suddenly give their software away?  To answer the why, here is some FAQs from their web site:
Q: Why do you give away this program?

A: WinX DVD Ripper for Mac is our latest product. We're confident this software is an excellent video converter tool. However, we still need your advices to improve it in next upgrade. And this giveaway is to collect feedback or suggestions from users.

Q: Will I have to pay to continue to use this "Giveaway" version after April 30, 2010?

A: No, you don't need to pay any fee. We're offering WinX DVD Ripper for Mac free for a limited time but the software can be used with no limitations for as long as you'd like.

Q: Will I be able to upgrade this version to a newer version for free?

A: No, there's no free upgrade of this "giveaway" version to future versions. But you can get the upgraded version for a very low fee. Feel free to email us then.
Windows users, dont feel left out.  Digiarty Software wants you to have some fun with their software as well.  Digiarty Software ,along with Notebooks.com, is sponsoring a giveway of their Win X DVD Ripper Platinum for Windows edition.
If you leave a comment on this post, you will have a chance to win a copy of their software free.  Yes, free software folks.  We have a limited supply, so its first post, first serve kind of contest.  You dont have to be witty, you just have to say that you want a copy of WinX DVD Platinum.
Now remember, if you are going to rip DVDs, please do so at your own risk.  You dont need any legal hassle just because you want to have a copy of Pirates of the Caribbean on your iPhone for a trip. Ok?
Advertisement