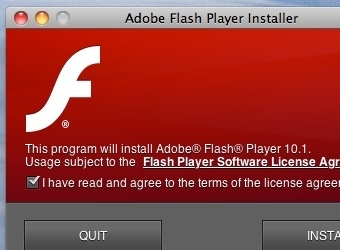 Christmas has come early for Mac users.  Adobe wants you to see what Adobe Flash Player 10.1 looks like on your Mac. According to Mac Rumors, Adobe has released a preview release of the 10.1 Flash Player for Mac OS X that supports H.264 video hardware decoding on Mac OS X 10.6.3.
Hardware video decoding allows Flash Player to offload H.264 video decoding tasks from the CPU to deliver smooth, high quality video with minimal overhead, improving video playback performance, reducing system resource utilization, and extending battery life.
To use the new version of Flash Player, a.k.a Gala requires one of the following graphics card hardware: NVIDIA GeForce 9400M, GeForce 320M, the or GeForce GT 330M. The types of Mac hardware supported right now:
MacBooks shipped after January 21st, 2009
Mac Minis shipped after March 3rd, 2009
MacBook Pros shipped after October 14th, 2008
iMacs which shipped after the first quarter of 2009
There are limitations right now for this beta:
Some resolutions are not supported. Specifically YouTube does sometimes provide a resolution of 864 * 480 pixels for their 480p content which forces a software fallback.
Resolutions smaller than 480 * 320 pixels are not accelerated on NVIDIA GeForce 9400M based Macs. On NVidia GeForce 320M and GeForce GT 330M the threshold can be a bit higher. These choices are picked by Apple and balance power usage of the CPU vs. GPU for their particular hardware. Remember that using the GPU for video decoding does not always result in overall power savings. This is something you can only decide on based on the exact type of hardware combination and the content you are trying to play. Playing video has a fixed baseline cost in the GPU for instance which is not the case when you decode on a CPU.
The software decoder in Adobe Flash Player is more forgiving when it comes to improperly encoded video files, it works around many issues. The hardware decoder can not handle some of these cases. You might notice that some videos will have 'jumpy' frames, i.e. frames are out of order (we have seen that with some files uploaded to YouTube). This is usually because Composition Time Offsets are not properly set up.
The hardware decoder is limited to 2 instances at a time. This limit is total to the system. If you have more than 2 videos open at the time the 3rd one will fall back to software decoding. This is even the case when a video is on a hidden tab (This is another reason that hardware decoding is reserved for high resolutions).
In the current release of Mac OS X 10.6.3 hardware accelerated decoding will sometimes stop to function until you restart Safari. We are in process to resolve this issue with Apple. But if you can reproduce this consistently with a specific URL please let us know.
How do you know if your new version of Adobe Flash Player is working? If it is working properly, a small white square will appear in the upper left corner of the video.
To try the new version, you can download it from Adobe Labs.
Advertisement