The third of the iWork apps for the iPad is Numbers, a simple but useful spreadsheet application. We have already reviewed Pages and Keynote, so far. Most people are used to editing spreadsheets with Excel unless they are already using Numbers in the Mac version of the iWork suite. I was not expecting much from the app, but I was pleasantly surprised at how simple and useful it was to use.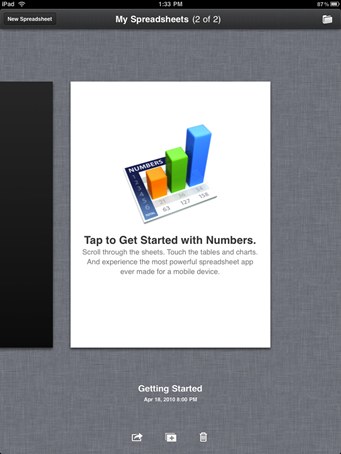 As is the case with Pages and Keynote, Numbers starts up with a helpful overview document. If you have never used the desktop version of this app, then read through it and learn the basic principles of the Numbers interface. It is a little different than a traditional spreadsheet application like Excel, but that is a good thing once you learn how to use it.
Numbers workbooks have tabs for each sheet. The last tab has a plus sign which offers to create a new sheet or form when tapped. If you want to duplicate or delete a sheet, just quickly tap its tab and a popup offers these two choices.
The interface is like the other iWork apps; you can pinch to zoom and swipe to scroll left/right and up/down. The toolbar is the same with My Documents and Undo buttons in the upper right. My Documents is where you go to create new documents, export the current document so it can be emailed, uploaded to iWork (the beta sharing site created for the iWork apps), or export so that you can take the document off your iPad using the iTunes sharing feature. As I said in the other two reviews, Apple needs to add wireless syncing of documents.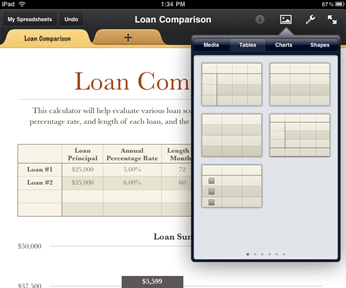 In the upper left, you get the same four buttons you have in the other iWork apps. With these, you can: change the look and feel of text or graphics using the Info button, insert pictures, shapes, etc. using the Media insert button, get help and search as well as change some other options using the Tools button, and finally put the app into full screen mode which means you won't see the toolbar. Just tap in the same region where the button was to get the toolbar back.
One unique thing about Numbers is that in landscape mode, you can still see the toolbar. This disappeared in landscape mode in Pages and you could not get it back, much to my dismay. I am not sure why there is a difference between the apps. I wish it was available in both apps. With Keynote, you only have landscape mode, which makes sense for the presentation app.
Unlike Excel and other traditional spreadsheet applications, in Numbers you insert tables, or edit the one that is created with the blank template, to crunch numbers and data. Along the top and left side of a table, is a bar with what looks like shirt buttons on either end of the bars. Tap and drag the button to add or subtract rows or columns. Tap the bar itself above or next to a column or row to select it. Move columns or rows by tapping dragging it to the new location. See the second video below for a demo of this feature.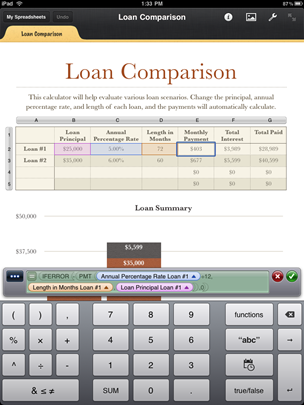 When you want to add content to a cell, double tap it and the entry keyboard shows up. In Numbers, the keyboard changes based on the format of the cell you tapped. This is a great use of the limited screen space. If the cell you are editing is a number cell, then a number keypad with mathematical operations and function buttons shows. Text cells have a regular keyboard. Date cells have a kind of calendar keyboard.
Numbers allows you to insert charts with the Insert Media button. After you choose chart, to insert it, double tap. It tells you to tap and drag on the cells you want to use as the source for the chart's data. It is quick and simple. You can then change the chart's format and look using the Info button.
Forms are used by Numbers to allow you to quickly enter data. Why use forms?Maybe you have a database of names, addresses, phone numbers and email addresses. You can create your spreadsheet and then make a form to match it. Also, when you enter the date you quickly use the form instead of typing directly into the spreadsheet. You can do this in other spreadsheet programs, but it is more complicated. I really like this feature and plan to use it for the mileage form that I turn into my church to get reimbursed for travel expenses. To see this feature demonstrated, watch the second video below.
There are some nice templates to create spreadsheets. Like the Numbers app, they seem geared towards home and educational users. However, a few of them might be nice for business use. An example would be if you are out buying a car and want to figure what the payments would be on the loan they are selling you, then the loan template in Numbers might be the appropriate tool.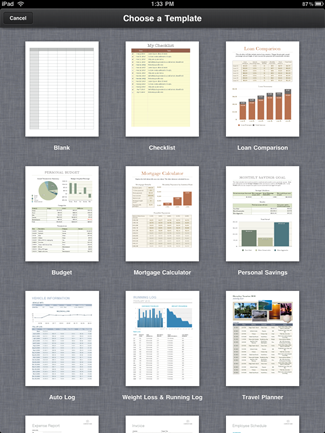 I have to be honest; I only use Excel to create exactly two spreadsheets a month. Both of these spreadsheets are extremely simple. The only reason I use Excel is because I have it as part of MS Office. However, I am very likely to begin using Numbers from now on instead. If you have simple needs, it might just fit them. I dont't think you want to do serious spreadsheets with it.
Above is a demonstration video of Numbers.
Below I show you how to manipulate cells, columns and rows and how to use forms.
When I began doing the reviews of these three apps, I chose to do Numbers last because I was least interested in it. But now that I have had a chance to use it, I like it. I will use Numbers regularly for my very simple spreadsheet needs. And of the three apps, Numbers might have the most compelling features.
Advertisement