Until the new iPhone OS comes to the iPad this fall, we will have to wait for the limited version of multitasking Apple is still adding to their new OS. Until then, a simple app called Desktop tries to overcome this weakness. It actually does a decent job of allowing you to have two "apps" on the screen at the same time, but it's not quite what you think.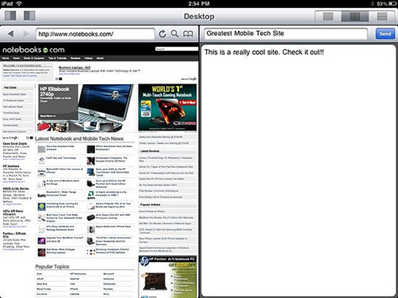 What Desktop does not do ,is open other apps and show them two at a time on the iPad screen. What it does do, is give simple versions of some of the iPad apps and displays them. As you can see above, there is a simple web browser and email writing utility in the app. When you are finished composing your email and hit send, it opens the built in Mail app and creates a new email message with the default account selected.
On the toolbar of Desktop, there are two buttons in the upper left corner. Tap the left button and a list of available utilities drops down (see picture below). Select one of the utilities and it populates the left pane. Do the same for the right pane. You can also open an app full screen by using the buttons on the upper right.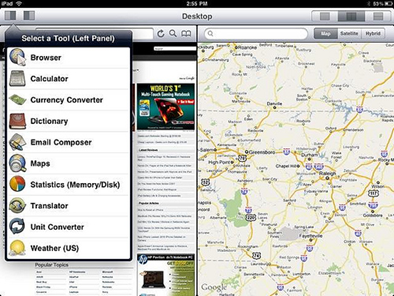 If you rotate the iPad, the buttons change form left/right pane to upper/lower pane (see below).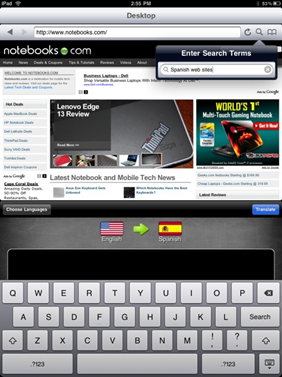 Unfortunately, the one tool I would use most, a word processor or text editor, is not yet available. The app's page in the App Store says that one is coming soon along with a compass and "more!" As you can see from the screenshot above, it has the following:
Browser
Calculator
Currency Converter
Dictionary
Email Composer
Maps
Statistics (Memory/Disk)
Translator
Unit Converter
Weather (US)
My chief complaint, besides no text editor, is that I would never use most of the tools that are present. I mainly want a browser and text editor to allow me to compose stories like this. Until the app is updated, I used the email composer to write stories and other things. I email it to myself and copy them into my posting software from my PC or to Word to create a document. Another option would be to copy and paste to Pages or Notes on the iPad.
The app is only $.99 so you can check it out without losing much.
Advertisement