The next time you go see your dentist, he or she may be using an iPad. No, it won't be for a teeth cleaning, but might be using it to keep records more efficiently with MacPractice, a system of medical practice management and clinical software. It allows doctors to use their Macs, the iPhone, and now the iPad in patient care. Dentists, medical doctors and eye doctors, along with support staff, can use an iPad to do a number of things that are normally accomplished via forms, paperwork, or x-rays. This can save money, time, and alleviate data entry errors.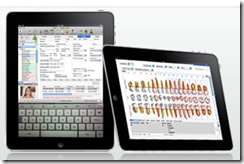 MacPractice Software on the iPad
We've been overwhelmed with requests from doctors who want to use MacPractice on an iPad," said Mark Hollis, president of MacPractice. The interface solutions we have tested allow doctors to use this incredible device in a patient encounter, enter the visit data into MacPractice EMR and have access to medical and dental images, prescription history, etc. literally at their fingertips at the point of care."
Here are some of benefits of the MacPractice system, according to their press release and web site:
Access patient information stored on the office's computer systems via the iPad allowing the medical staff to be untethered to the desktop system while entering and reading records, charts or viewing x-rays.
Access patient records while away from the office, like when a doctor is doing rounds at the hospital or just at home at night.
Multiple users can access information stored on a single computer via different iPads thanks to technology provided by AquaConnect, a server solution for the Mac (see the video below for more about AquaConnect and MacPractice).
At the registration point, the staff can enter patient information into the iPad saving costs of paper and forms as well as avoiding date entry errors caused by illegible handwriting.
Hand a patient an iPad to enter information instead of filling out a myriad of forms.
Doctors can chart their patient care and progress.
Dentists and their staff can view x-rays and photos of teeth and show them to their patients.
Provide entertainment for their patients as they are undergoing procedures in the office.
Optometrists and Ophthalmologists can write eyeglass prescriptions and also view your prescription using an iPad and MacPractice 20/20.
MacPractice is used at around 3,000 different doctor's offices, according to Mark Hollis of MacPractice. You can learn more about the use of the iPad with MacPractice at their web site.
In this video, the setup and use of MacPractice is demonstrated.
The Notebooks.com team saw a glimpse of using this type of idea for medical practices at CES this year, but now its a reality. This is the beginning of the next wave of medical technology. And, its brought to you by Apple.
Advertisement