Installing devices on a PC can be a hassle. There is the physical installation and then the driver installation. HP is making it simpler with what they call a Plug and Print" Printer. You plug the power cord in, connect the printer to the computer via USB, and without ever having to put a disc into a drive, the driver is installed. The printer has the driver software in flash memory and it is transferred to the PC via the USB cable.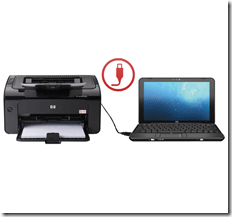 Mobile users who have a notebook or a netbook without an optical drive, can install the software more quickly. HP says the process takes less than two minutes. It would be nice if hotels or schools would invest in this kind of technology so that people bring a notebook/netbook and need to print can just plug and print directly from their own computers.
The new models are the HP LaserJet Pro P1100 Printer Series, LaserJet Pro M1130/M1210 MFP Series, and the LaserJet Pro P1566/P1606dn Printer Series.
Another interesting cost-saving feature is the Auto-On Technology" which turns on the printer from the off position when a print job is sent to it. The printers will turn off after a period of inactivity. Normally you would have to power the printer on manually. But this is like a super sleep mode where it turns everything off and only keeps enough power to detect activity on the USB bus. HP says this will help reduce the environmental impact of its printers and the economic impact, saving up to 72 percent on energy costs versus its predecessor" the HP LaserJet P1005 Printer.
PC Magazine has a review of one of the P1100 series giving it 3 out of 5 stars. They range in price from $129 to $149 at retail. The M1130 and M1210 multifunction printers will cost $149 and $199 respectively when available next month. The LaserJet Pro P1566 is $179 while the Pro P1606dn is $229.
Advertisement