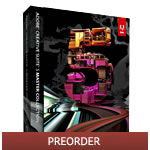 This week Adobe released the latest version of its premium creative software Creative Suite 5, or as it is commonly known CS5. This new software package brings about many cool new tools and features that should have professional graphic designers, photographers and hobbyists excited.
The new features of Adobe Creative Suite 5 are already impressing the pro's that use this software on a daily basis and Adobe gave a small group a sneak peak at some of the really cool features in Photoshop, Illustrator, InDesign and After Effects; recorded their reactions and put it together in this short clip below that highlights new features and how excited it has the community.
Now that you've seen the user reactions and a few of the cool things that Adobe Photoshop can do to save you time and make your life easier we want to highlight a few other new features that will help users in Photography, Video Production and Web Design; as well as how some of these features come together to create a really cool product.
Photography:
Possibly the most mind blowing feature I have seen in the new Adobe CS5 release is the ability to remove an object or a person from an image and automatically fill in the background behind them. In the demonstration, which you can see below, the act of removing an object from a photo is transformed from a time consuming process into a simple select and click model. You can see the Content Aware ability at the 4:25 mark in the following video which includes several other great tools in CS5 for photographers.
Before you go decrying that Adobe has made graphic designers obsolete, take note that while this feature works like Magic on a simple background; it does have its limitations which CNet Asia confirmed with Adobe.
"We checked with Adobe regarding Content-Aware Fill's restrictions, and found out that it works best if the background is uncluttered. For complex scenes, the firm suggests that users remove the elements by components. For example, if you're removing a dog from a busy street scene, you should remove the head first, followed by the body, limbs and tail. This ensures the software can accurately fill in the blank spaces." Leonard Goh CNet Asia
Content Aware limitations aside it is a cool tool and the addition of several new or enhanced features really adds to the usefulness of CS5.
Enhanced HDR handling for deleting a blurred area.
Lens correction based on the type of Lens used.
Paint a photograph from scratch and now mix colors with a special "mixer brush tool".
Easily snap Dashed Lines to corners in Adobe Illustrator.
See animations and videos directly within Adobe InDesign 5.
Another cool tool for Adobe CS5 users is the Puppet Warp tool. This new feature lets you set points of articulation on an image and rotate and move it in a natural way to change positions. It's a bit like moving the arms around on a GI Joe. If my description still leaves you a little confused check out the demo of Puppet Warp below.
Video Production:
In addition to these features, when it comes to production, Adobe After effects is now a full 64-bit application and can make use of the full amount  of RAM on your system and rotoscoping is now easier.
You can see a selection of the top 5 Creative Suite 5 features for video production in the video below.
Web Design:
If you use Adobe CS for web design, you'll really appreciate the new tools and features that make your work easier and more efficient. When you're using Adobe Flash Professional CS5, now you can link textboxes together and text will flow from one box to another.
In Adobe Dreamweaver CS5, there's no more leaving the application to use a third party tool to see what your creation looks like in other browsers thanks to BrowserLab. This new tool lets you see what your pages look like right inside DreamWeaver.
For closer look at the top 5 features for web design, check out the video below:
Adobe CS 5 was announced on April 12th and is currently available for pre-order to be shipped in mid-May and customers who pre-order by April 29th can get free shipping on Adobe CS5. There are several Adobe CS 5 packages, listed below, including a student and educator edition which is discounted by 80% off retail for individuals with educational credentials.
Adobe CS5 Packages
In addition to the current free shipping offer on Adobe CS5 with coupon code 'adobecs5', if you purchase Lightroom 2 with a CS5 package or update you can save 30% off!
Advertisement