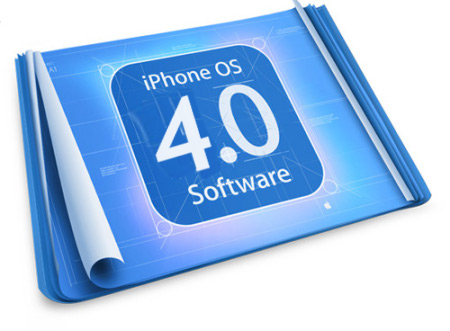 Earlier today, I wrote about all the speculation surrounding the iPhone 4.0 announcement that was happening today in Cupertino.  I had a list of features I thought was going to be implemented.  Well, it turns out I was right and I was wrong.
Right:
Multitasking! Yes, the new iPhone 4.0 will have multitasking.  From what was seen, Steve Jobs showed the group  four applications running simultaneously.  What allows for this multiasking, a group of APIs created specifically to do specific background tasks. Those APIs are:
Background audio streaming- now users can listen to Pandora while doing other tasks, and even when the phone is locked.

Voice over IP- Yes, you can run Skype and not miss a call cause you have to switch out of an app .

Background location- This is for GPS services like TomTom, as well as GPS aware applications like Loopt.

Push notifications/ Local notifications- They have had this for a while, but now that have added local push notifications, meaning the push doesnt have to come through the Apple servers.

Task completion- The ability to have a task run to completion in the background, such as loading up photos to Flickr or Picassa.

Fast app switching- No explanation needed here.

Global inbox– yep and then some. For mail, there is a unified mail box, support for multiple Microsoft Exchange mailboxes, fast inbox switching, and organization by thread (like GMail).
iAd– Oy yeah.  This was launched in a big way.  You know how in some of the newer video games there are now billboards and some ads in the game as you play, well now that same type of ad infiltration will be on iPhone 4.0 devices.  Its built into the OS.  Its like a mini-tv ad.  Its a cool idea I grant you, but I hope someone builds an app to be able to stop the ads when you want.
Updated UI– Sorta.  When you are multitasking, there is a floating dock shown for what apps are running.  Otherwise, its the same UI we all know and love.
Wrong:
Contacts to homescreen- not a deal breaker
More multitouch features- annoying but ok
Enhanced calendar and address book- not an issue
Direct printing- Ok, I wish this one did happen.  Maybe someone will hook into the new APIs and find a way.  During the presentation, there were a few slides with other APIs that werent mentioned as part of the big 7 "tentpoles" of the new OS.  Maybe printing will be one of them. I know I saw bluetooth keyboards, so its a start.  (Note: Bluetooth keyboards already work with the iPad.)
What I missed, but was announced under Steve Jobs' 7 tentpoles of iPhone OS 4.0:
Folders– The ability to organize the applications into folders. Users can drag and drop apps into each other to create folders.  These folders can live on the dock.  Finally, a better way to organize instead of flipping through all those pages.
iBooks– This was a given.  We had to get iBooks for the iPhone and iPod Touch.  And, they are even giving us Winnie the Pooh like on the iPad.
Enterprise– iPhones in the business is bigger and bigger.  There are many enterprise class applications available (i.e. salesforce) for the iPhone.  So, with iPhone 4.0, they have added a few things like SSL VPN, better email encryption, multiple MS Exchange email account support, mobile device management (for deployment), and wireless app distribution.  This last one is great for businesses who write and use their own applications.  They can sign the app and then be able to push it to their iPhone users.
Game Center– Ok, iPhone and gaming go hand and hand.  What is new here?  Apple has created a gaming social network that will match up like skills/expertise players with each other to play.  Kind of Xbox Live for iPhone?
And now for the other news: iPhone 4.0 is available for developers now, and for consumers end of summer.  If you have an iPhone 3GS or 3rd generation iPod Touch, you can run the new OS without issue.  If you have an iPhone 3G or 2nd generation iPod Touch, you can run everything BUT multitasking.  My 1st generation iPod touch cant do anything.  The iPad will get the update in fall.  There is no word on price yet, but we have WWDC (Apple's developers conference) in a few months, maybe we'll find out more there.
If you would like more detail on this, see these sites live blog coverage: Engadget, CNET and Gdgt.  Our own Xavier Lanier was there and will be chiming in with his thoughts later on today.
Overall, I think iPhone 4.0 will be the answer to a lot of users prayers, and make many more of us upgrade our hardware sooner rather than later.  It brings a more full featured set of apps and services that will make the iPhone experience even better for everyone.
Update: If you would like to see video of the event, it is now available from Apple.
Advertisement