Photography is one of the many fun activities we take part in every chance we get. Digital Cameras remain one of the hottest electronics that many of us own and the simple point and shoot philosophy allows us to quickly capture memories without thinking twice. That's not a problem of course, but managing those pictures and even videos can eventually become a chore as we accumulate them over time. Its not impossible to come across some picture libraries that range in the hundreds of thousands.
So how do you get it under control? For years, there have been many third party software solutions on the market for managing photos, some quite expensive with complex features while others too simple to manage the enormous libraries we possess.
History
With the release of Windows 98, Microsoft introduced its first effort at managing pictures in Windows called the 'My Pictures' directory. But, it was just a simple folder anybody could create and add their pictures to, no big deal. With the release of Windows 2000, Microsoft improved the My Pictures directory with thumbnail support which was a nice improvement to easily discover photos. Still not enough, Microsoft added further improvements through services in Windows XP for working with Pictures, called the Picture Tasks located under the Windows XP Task Pane. Options included viewing a slide show, ordering prints online, printing pictures and ability to create photo CDs. Also, photos in a directory displayed thumbnail previews to quickly find photos of interest. Some would consider this a major step up to digital photography in 2001.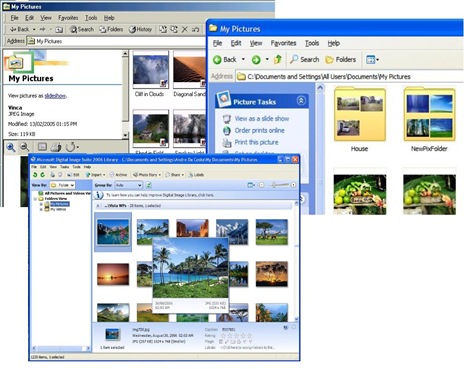 Working with Photos on Windows over the years
However, this did not solve some of the key management issues like events, searching, and better ways of viewing and sharing your photos with family and friends. Of course, the Internet eventually played a critical role in this endeavor. Microsoft focused on supplementing Windows XP's photography capabilities with its Digital Image Suite software. In fact, Digital Image Suite included an early predecessor to Windows Live Photo Gallery called Digital Image Suite Library. Digital Library included features such as Thumbnail preview, archiving, rating, keyword or tags as we call them today.
Windows Vista, introducing Windows Photo Gallery
Microsoft introduced a lot of technological improvements in Windows 7's predecessor. They also saw the changing landscape of digital media and the limitations associated with managing it. Windows Vista focused on solving this through key features such as Instant Search, Improved Graphics and Networking. To compensate for consumers growing digital image collections, the Windows Team made the decision to integrate photo management capabilities out of the box through a new feature called Windows Photo Gallery.

Windows Photo Gallery UI changes, Vista release (top) and Live Photo Gallery 2008
Photo Gallery focused on managing photos efficiently through features unique to Vista such as tagging, simplified way to import your pictures, editing, sharing through e-mail, printing and integration with programs and tools such as Movie Maker and DVD Maker. The organization features in particular made Photo Gallery a great asset for the digital camera, in addition to tagging, features like rating, events, sorting and the ability to quickly search through collections was a great benefit.
Windows Live
With the growth of the Internet and social networking over the past 3 years, Windows Photo Gallery was not cut out to keep up with the times. This is where the story of Windows Live and Windows Live Photo Gallery begins. Windows Live extends the capabilities of what you do on the PC to the web. This new version of Photo Gallery added the ability to publish photos to services on Windows Live properties such as Windows Live Space. Third party developers could also expand its capabilities with plug ins for services such as Yahoo! Flickr and Facebook. Windows Live Photo Gallery 2008 also improved organization capabilities with new ways of viewing your photos with more details in library view.

Windows Photo Gallery 2009's new iconless menus

The new conservative Library Controls, old version (below)

Windows Live Photo Gallery wave 3
In September 2008 Microsoft launched a beta of the most recent version of Windows Photo Gallery included as part of Windows Live Essentials with a final version released in early 2009. Photo Gallery wave 3 further focused on improving Internet and Sharing capabilities along with Windows 7 compatibility. In this introductory article, I want to talk about some of the ways you can use Photo Gallery to get started with your photos. Sharing is a critical part of photography these days, we want to share our memories with our family, friends or the entire world. Services such as Facebook, Windows Live Photos and Flickr facilitate that and we will take a look at how simple it is to do. Lets start with importing.
Importing
I have owned a digital camera since February 2006, so I am fairly new to digital photography. There are multiple ways available for importing your pictures off your digi cam in Windows 7 with Photo Gallery. You can use the Auto Play dialog when you connect your camera, or insert a SD Flash card. You can open the Computer environment from the Start menu, browse your digital camera or SD card, select the photos and copy them to a folder in the Pictures directory.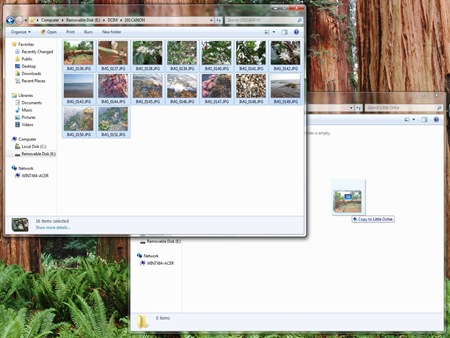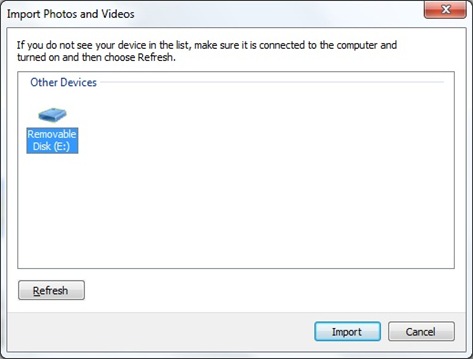 In Photo Gallery, you can browse recently taken images on your digital camera or  use the import wizard to import them. To do so, Click File > Import from Digital Camera or Scanner. If your digital camera is not displayed, make sure that that it is turned on and connected. There are multiple ways to get your pictures off your camera using the wizard. I am often taking pictures, so I don't immediately import them until I'm ready. However, you might notice is that there multiple collections of photos grouped by date from time to time. Of course, you won't see this if you decide to copy and paste through the My Computer | Explore method.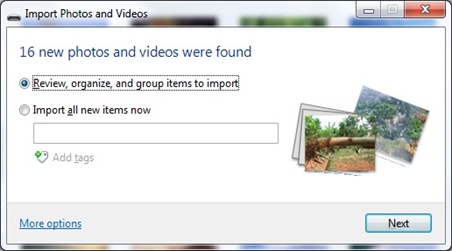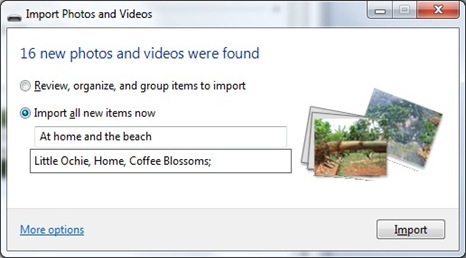 The Import Photos and Videos wizard allows you to review the images on your camera before importing, this avoids issues like importing duplicates, selecting only the pictures you want. The second approach is for people who want to quickly get their images off their digi cam with no particular interest in organizing. You can add a name, some tags for instant search related to your photos. As you can see, I am importing some photos which are a mixture of images taken at home and the beach with related tags.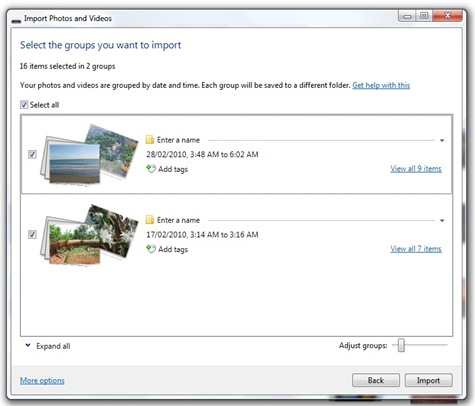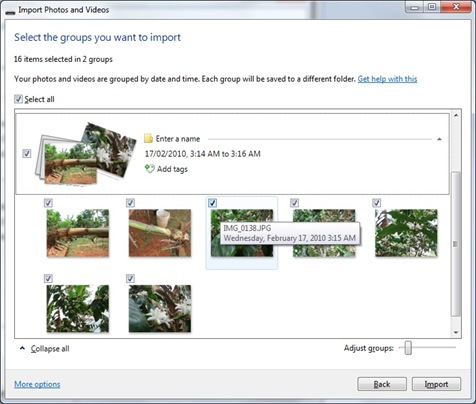 I personally like reviewing my pictures before importing. So, I select the "Review, organize, and group items to import" option. As you can see in the screenshot above, Windows Live Photo Gallery wave 3 intelligently groups your photos according to date, simplifying organization. You can quickly enter a unique name for each group for the folder in which they will be copied. If you want even more details, you can do so by clicking the 'View all items' button which will expand to reveal all the photos within that collection. This allows you to preview all the photos and you can uncheck the photos you don't want to import at the same time. Once you have selected what you need, you can proceed with the import. Your photos will now be populated in Windows Live Photo Gallery.
If you have images stored in another location you can easily add them by clicking File > 'Include a folder in the gallery…' and navigate to wherever it is located on your hard drive. The Windows Live Team has made some changes to the menu structure adopting an icon less menu bar similar to Windows 7 Explorer shells. The interface has seen some renovations in key areas too, the Photo Gallery controls located at the bottom of the window for quickly viewing a slide show and navigating through your photo library have been reduced to a set of conservative status buttons. This improvement gives users more real estate to view your photos with no loss in functionality. The interface is much cleaner with less frames and elegant separators with drop shadows.
Menus and Options
Going back to the menu bar area, Live Photo Gallery has added and rearranged some of its options over the past couple of releases. Open has now been replaced by Extras with familiar links to further edit and view your images in default programs such as Microsoft Word (you would be surprised how many image editing options there are in Word 2007), and now Windows Media Center directly from Photo Gallery.
Slideshow is now also a part of the menu structure. The library controls themselves have been consolidated into status bar buttons which are actually more pleasing, in fact, the 'Zoom in or out' slider is more accessible instead of having to click in previous versions to invoke the function.
The sorting area has been significantly cleaned up, columns such as 'Name, Date, Rating etc..' have been consolidated into 'Arrange by auto' menu with additional filters such as Tag and Person (the tagging gallery is now off by default). The Rating feature displays 5 star options with filtering tools for displaying a specific set based on your personal rating. The fundamentals of Photo Gallery remain the same, and users should feel right at home upgrading to this release.
People Tagging Features (click to enlarge)
MetaData Features
A core part of managing your digital library, Meta data gives the user detailed information about a particular photo or video. This area of the Photo Gallery interface, has not changed significantly in version 2009, but adds new options for users that are sure to impress. The expandable hierarchical view of folders, tags and calendar dates are more subtle with the expandable indicators only appearing when your mouse pointer is hovered within the area. The latest feature that has been added is People tags. The basic idea is to have human recognition in your photos. It's a tradition to take group photos, whether it's a couple, family or friends. It's similar to features found on social networking sites such as Facebook or Flickr which allow you to tag people or objects in a photo which either links you to more information about the person or item.
People Tags is quite impressive. When you click on a photo with multiple persons in it, the image is immediately identified as having persons found. Also impressive is the software's ability to identify a face in a photo. If you hover over the Person found buttons in the Tag Gallery, a square is automatically generated over a person's face. The level of accuracy is quite amazing. Of course, you can create your own identities if Photo Gallery 2009 does not discover an individual in a photo automatically. If you are not signed in, when the 'That's Me' tag is selected, a Windows Live ID dialog prompt appears asking you to sign in to access services such as Windows Live Spaces. You also get richer tagging capabilities, persons in your Photo's you know can be linked to your Windows Live Contacts (this kind of remind of when Smart Tags were first introduced in Office XP). Powerful stuff, definitely love it.
Beyond photos, users can download a free plug in Uploader to YouTube by William Duff. An issue I discovered about videos in Photo Gallery 2009, when you are previewing them, there is no support for real time seeking. Videos also depend on GPU acceleration. I am currently running the software on Windows 7, but my nVidia Geforce 6200 was not supported yet, so when previewing video, there was constant stuttering. This is not the case on other systems of course where your hardware is properly setup.
Two new editing effects: Straighten and Black and White (click to enlarge)
Editing Photos
Photo Gallery includes some new features for basic photo editing. These include Black and white effects such as Orange, Sepia, Yellow, Red and Cyan. Photo Gallery does give you the ability to revert back to an original though, even after a photo has been edited and saved, this seems to be based on Vista's Previous Versions feature. These are basic Photoshop functionality users who are familiar with the program will find in Photo Gallery 2009 and they are free! The 'Straighten photo' is also new and just as the name says aligns your image using a gridline while you simply use the slider to control the accuracy. Don't look at the slider; the gridline is the key to ensuring that the photo appears straight based on your personal satisfaction.
A new Photo-stitching feature lets you easily build panoramic views from a collection of photos. The panorama must be based on an actual scene; you can't just use a bunch of unrelated photos. In addition to its strong support for photo-sharing services, you can order prints directly from over 70,000 worldwide printer services partners.
Integration across Windows Live
Publishing your photos has been a feature of Photo Gallery since the 2008 release, with support for Flickr and Windows Live Spaces. Users can obtain additional plug-ins for services such as Facebook and YouTube, I would have hoped these come by default with the final version, and it just seems like the right out of the box experience thing to do. The two upload plug-ins for YouTube can be downloaded here and Facebook here were created by William Duff, for users of Google Picasa, you can find that here by Mark Steeves. So, Photo Gallery provides a very open platform that enables third party developers to further enhance the program beyond what the Windows Live Team delivers. Images published directly to your Live Space are now directly stored on your Windows Live Skydrive. The Windows Live Team has also promised to continue to updating the program regularly so no more tying to releases to Windows OS schedules which means, expect innovative updates.
Email Options for Photos (click to enlarge)
With the roll out of the new Windows Live Home ,which focuses on improved social networking, sharing your photos is even easier. A feature called 'Home Page Photos' displays a collection of photos you have uploaded from your hard drive. There could have been better integration across the online services, by simply linking to existing galleries of photos that have already been published from Photo Gallery to your Live Space and have them streaming on the users Windows Live Home Page.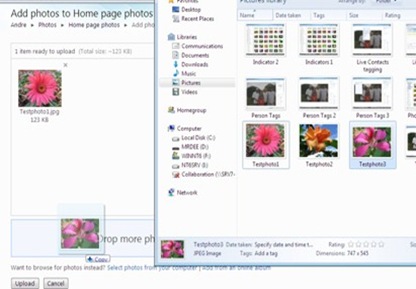 Uploading Photos and setting permissions
The upload process is very easy though, simply browse for the photos you would like to add using the browse fields or install the 'Upload Photos Add' which provides drag drop ease for uploading multiple photos at the same time. Once your photos are uploaded, you can set permissions to share with your friends, since the default is just you, add more photos, create a folder or view a slide show and even order prints. Permissions themselves are propagated across your Contact list or your Social Network. For instance, I have my Windows Live Messenger list setup in different categories. They show up as groups within the category of permission with Public being everyone that visits your Windows Live Home page and Networks being those within your social group. You have the option of setting options for users such adding photos, editing details or even deleting. If you have friends that are not in your contact list, you can add them by simply entering their email address and click 'Save'. Photos are displayed in a neat little animated slideshow.
Syncing Photos
Another example of the tight integration in the Windows Live Essentials suite and services is the ability to sync data across multiple media, including Photos. From the Live Photo Gallery 'File' menu is the 'Setup Gallery Sync' feature which allows you to have your photos available on multiple PC's without the manual chore of copying between computers. The setup up process is very simple, just launch Windows Live Photo Gallery on both PC's > sign in on each using your Windows Live ID. Next, on one of the two computers click Setup gallery sync… from the File Menu in Photo Gallery and follow the instructions. You're on your way to synchronizing photos! Some of the great advantages of having your photos synced include retaining edit history across PC's. You can undo edits you've made to your photos and even revert back to the original photo from any of computers synchronizing with the gallery.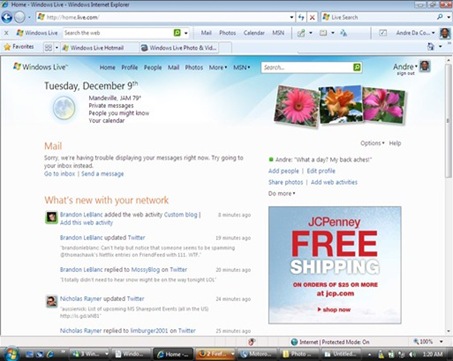 Conclusion
Windows Live Photo Gallery is more than the photo manager we have come know since its inception as one of the multimedia features of Vista. It has evolved over the years into a mature product that integrates tightly with the web through innovative services such as the new Windows Live Home and Windows Live Essentials suite. Its support for add-ons will further enhance the products qualities and give users unique and cool ways of managing and sharing their digital memories.
Related:
Extending Windows 7 with Windows Live
Advertisement