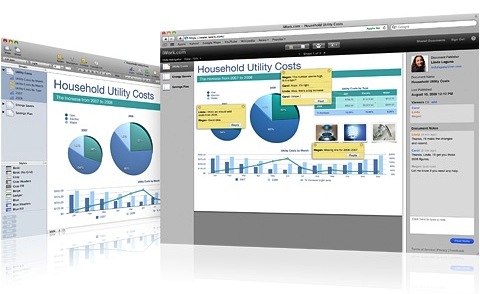 With Apple iPad sales doing well and overall Apple sales looking even better, it was time to Apple to take a break from hardware and focus on some of their software products, specifically, the iWork.com beta currently available.
For those not familiar, iWork.com is Apple's online site for their iWork suite of products.  From the site:
iWork.com* makes it easy to share your work online with anyone you want. With this web-based, public beta service, you can share iWork files in a way that's simple, smart, and secure.
So, users of iWork can share all of their Pages, Numbers, and Keynote documents over an online web site to allow for sharing, collaboration and comments on their documents.  Its a way to increase group productivity.
While the service is still in beta, Apple is already making improvements to its feature set to accomidate the new iPad and well as iPhone and iPod touch users.  An email was sent to the user base with the following new information:
– Share documents on websites and social networks. iWork.com allows you to share a document by creating a public link. Use the link to share your document with large groups or on websites and social networks. There's no need to set a password or send an invitation. Anyone with the public link can view your document but cannot add comments or notes.

– Improved Shared Documents page. Download documents shared on iWork.com without leaving the Shared Documents page. You can also track the number of views your publicly shared documents receive.

– Refined user interface. A redesigned Sign In and Shared Documents page for iPad, iPhone, and iPod touch makes it easy to access your documents while on the go. The new interface and improved scrolling help you find your shared documents faster. Visit www.iwork.com from your iPad, iPhone, or iPod touch to view your shared documents.
The iWork.com beta is a free service for now, but Apple is planning on charging a fee sometime soon.
Advertisement