It's great that notebooks are no longer confined to a single color top, but a drawback to the new swirly shiny covers is that the glossy surface is a fingerprint and scratch magnet. Case in point the Lenovo ThinkPad Edge that I am currently reviewing. This 13 inch notebook is light and pretty slim which made it great for covering CES in January, but unfortunately the gloss black cover is constantly covered with fingerprints and it has several minor scuffs and scratches which have proven hard to buff out. Thankfully Gelaskins provided us with a review skin that fits the Edge perfectly and protects the lid from fingerprints and scratches with a colorful canvas.
What is a Gelaskin: A Gelaskin is an adhesive protective cover available for many electronics ranging from netbooks and notebooks to iPhones, smartphones and game devices like the Nintendo DSI. The iPhone and smartphone Gelaskins also come with matching wallpaper so your phone is completely skinned. Gelaskins come in many styles and colors and thanks to partnerships with National Geographic, Marvel and top indie designers as well as giving you the option to upload your own images and designs. The skin is held in place with a 3M adhesive and protects against scratches and has an anti-UV coating.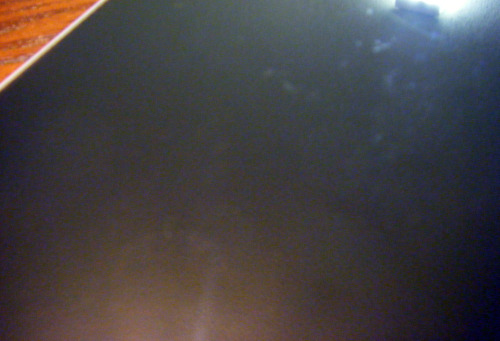 Notebook before the Gelaskin
Installation: Based on past experiences installing screen covers I prepared myself for an arduous process of positioning and repositioning — and smoothing out air bubbles and cursing. Thankfully, there was only a bit of repositioning which went really well. In two words; the Gelaskins installation process was smooth and forgivable.
The 3M backing held its tack while I found the perfect place to put the "Take me to your leaders" Gelaskin, and even though I had to reposition it several times once I had it in the correct spot there were no air bubbles and it held fast. This was by far the easiest protector installation I've ever gone through. In all it took me about 4 minutes including cleaning off the top of my Lenovo Edge.
After a day or so the Gelaskin sunk in a little bit around the ThinkPad logo that is on the Edge, but unless you look close it isn't very apparent and it doesn't detract from the overall look of the skin.
Protection: As far as protection goes Gelaskins stand up to punishment. Since I have only had mine on for a few days I decided to put it to a stress test against my keys. As you can see in the video below the Gelaskin stands up to a key very well with only a few marks showing when the light hits at the right angle. If you left a pen or your keys in your backpack or briefcase with a Gelaskin covered notebook you should come out OK at the end of the day.
Overall: If you're looking for an easy way to prevent scratches and fingerprints from marking up your new notebook or netbook Gelaskins are an attractive way to protect your gadgets.By combining great designs, an easy application process and a price of $29.95 and under Gelaskins are a great way to protect your notebook while expressing yourself.
Advertisement