Windows 7 has been out for a few months now which means you're surely tired of the widgets and gadgets that you could place on your desktop out of the box. Sure they might be helpful, and you may even look at them from time to time, but so many of them are boring and they might cover up the your favorite part of your desktop background.
Well, fear not, The good folks at Into Windows not only compiled a list of 20 useful Windows 7 gadgets — but also created a sexy looking Glass Gadgets Pack for Windows 7 and Vista.
Imagine what it would look like to use these gadgets on the Samsung transparent notebook display!
The Glass Gadgets pack adds 14 transparent gadgets to your desktop cluttering choices including transparent replacements for many of the standard Windows 7 gadgets.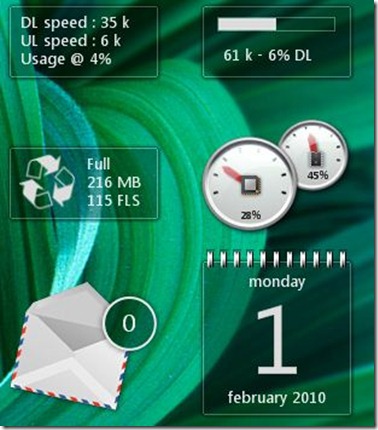 In all you'll find the following Windows 7 transparent gadgets:
Calendar
Clock
System control (shutdown, restart & lock)
CPU meter
Email
Net bar (monitors download/upload speed)
Net usage stats
Notes colour
Notes white
Drive info
Radio
Recycle Bin
Stats
Weather
Installing a new gadget is as easy as downloading the files from Into Windows, unzipping the file and then double clicking on the gadget you want.
I've never been a big user of gadgets but I may have to install this pack and make use of several of these gadgets, like Net bar and net usage states, since they look a nicer than the original gadgets.
Via DownloadSquad
Advertisement