While Josh put together a little guide explaining how you can afford an iPad for as little as $7 a day, I think there's a more important question worth asking: is it worth it? Being a bargain hunter by nature, for me, any purchase over $100 deserves a serious analysis and justification of the cost. As you may have spotted in our morning's review round-up, the iPad hasn't been getting the accolades the iPhone brought. However, one thing that everyone seems to approve of is the price.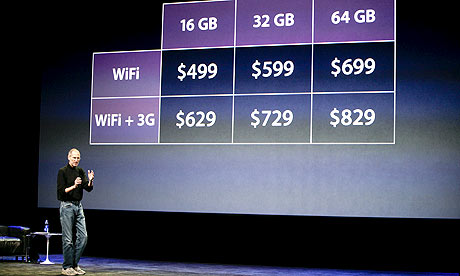 There are 6 different models available- the cost varies depending on the SSD size and whether or not 3G functionality is included. Depending on your configuration, the iPad device can cost between $499 and $829. However, if you're opting for a model with 3G capabilities, you'll need to sign up for a separate data plan through the oh-so-unreliable AT&T service. An unlimited monthly plan runs for $29.99 and a 250 MB one is $14.99. Either way you look at it, getting a 3G model means adding a recurring yearly cost of $359.88 or $179.88.
Since the iPad is meant to be an Internet ready device, opting for a 3G experience makes a lot of sense. However, this changes the pricing scheme a little: if you get the base 16GB 3G model with the 250 MB plan, your iPad will cost you $808.88 for your first year (opting for unlimited data increases the price to a little under $1000). While Steve Jobs was eager to announce the low price for the cheapest model, in reality, most buyers will end up spending significantly more.
So the real question is, does the iPad justify this high price? The price make sense on some level. However, the $130 difference between the 3G and non-3G models is a little hard to swallow, especially as consumers will be limited to AT&T as the service provider. Even though the iPad is unlocked, the only alternative carrier, T-mobile, won't be able to provide a 3G experience. However, the main issue that I think will prevent the device from going mainstream is its actual functionality. You can read the nice laundry list of complaints our friends at Gizmodo put together, but here's the real problem: the iPad doesn't fill any consumer need.
Jobs tried to market the iPad in a third category between smartphones and laptops, however, it doesn't really fit anywhere. It's fails to appeal to eBook fans who can choose the cheaper Kindle and enjoy an e-ink experience, avoiding having to read on a LCD screen. There's a reason that digital books aren't widely read on computers, even portable ones. The iPad isn't a replacement to netbooks either- it can only run one application at a time and lacks key features such as an optical drive or USB port. It can't even be compared to a smartphone because there's no calling capabilities or camera!
As noted by The Onion, the iPad is essentially a large version of the iPod Touch. At the event, Jobs hinted that's there's a large market for the product, i.e. anyone who's owned an iPhone, but it's unlikely that those folks will want to splurge for an iPad. It doesn't add any significant features. More so, knowing the iPad's actual price point, consumers can snag a better equipped netbook for a lower price. The iPad is nothing magical- while it's a neat device, it's certainly not revolutionizing tablets or the way people use computers.
Advertisement